Updated 03-06-19. Does your new or existing pho restaurant need a pho chef or cook? How can you find a good pho cook for your restaurant, and what are the qualifications? Here are a few tips that may help you.
First let's get as few terminologies down so we know what we're talking about. In general, a chef and a cook both prepare foods in a restaurant. They are both responsible for preparing, storing, cooking, plating and sometime also serving foods to customers. They also perform various other duties in the back of the house (BOH, or the kitchen) depending on how the restaurant is organized and managed.
The difference between the two has a lot to do with higher level of knowledge, training and thus responsibilities that a chef has over a cook.
Generally, the definition and description lean more toward a chef being more in the leading role with overall responsibilities and wide-ranging skills. These include leading a team of sous chefs and cooks in the kitchen, maintaining production quality, tracking food cost, ordering and managing inventory, plus recipe development, hiring and firing, food safety and sanitation concerns, and a whole host of other important areas in the BOH.
On the other hand, a cook is mainly a team member reporting to a supervisor, a chef, or directly to the owner. For small pho restaurants (and sometime in large restaurants as well,) the chef maybe one of the owners, who hires cooks to help with other kitchen tasks.
From a professional perspective, except in very few cases, my opinion is most pho and Vietnamese restaurants in North America and elsewhere around the world do not employ a pho chef. The person making pho in the vast majority of pho restaurants may or may not deserve the title "Chef", but they should be more accurately called "Cooks" instead.
For the purpose of this article, I'll use the term pho cook to refer to a professional working in the kitchen who is hired by an owner or manager to make pho for the restaurant.
What Is a Pho Cook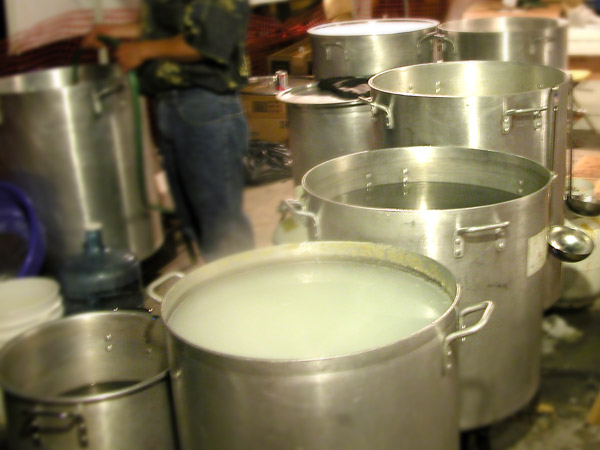 Making pho requires specialized knowledge. It also requires patience and attention to details. In the grand scheme of thing, a cook is a cook. If the cook cares about food, and is open to learning, then he/she should be able make almost anything.
When we talk about making pho, we also need to add into the mix other elements such as tradition, culture, ingredients and techniques, to name just a few. On the surface, it seems that Vietnamese cooks are the only good pho cooks worth hiring, or at least it is ideal that a person who makes pho has grown up with pho, or has been involved in pho restaurant business at some level, or has gone through good pho training.
Still, as I said above, if the cook cares and desires to learn, then he/she can become a great pho cook given proper training. The point is, becoming a good pho cook is a trainable and learnable endeavor. Once you understand this, as owner of a pho restaurant, you open yourself to a much wider pool of potentially good pho cooks. The important thing now is, do you know what your pho restaurant needs?
Pho Cook - Knowing Your Own Restaurant and Your Needs
It is no surprise that, for a small operation (mom-and-pop or family-run), the pho cook is usually the owner or one of the owners. This person may be the only one knowing how to make pho, and may possess (or claim to possess) some "secret" ingredients or method that makes their pho special and unique. In this situation, it's obvious that there is no need to hire an outside pho cook because the owner is in charge of the kitchen.
For larger size pho restaurants or a multi-unit concept, there may be more formal management structure in place with clearly defined front-of-the-house (FOH) and BOH staff, each with its own manager. There is still a scenario when the owner is the person in charge of the kitchen, but because of production needs, there are hired kitchen staff to cover many areas of kitchen work. For a multi-unit business, hiring kitchen staff is the only way to run the operation. A pho cook may tend to making pho only, or he may also tend to other dishes as well. A well rounded cook should be able to handle all items on the menu.
So you can see, a pho restaurant operation can take one of many forms depending how an owner runs his/her pho business. If you can put yourself into one of the above categories and really understand what you want to accomplish by having a pho cook, then you're on your way to successfully hiring one.
Hiring a Pho Cook
First off, hiring a pho cook depends on a good understanding of your location and your market. This means you need to know what your customers expect in terms of quality, and you want to understand what workforce you have available in your locality. You may be in an area where there is no Asian population to speak of. Or you may be in an area where customers are unfamiliar with Vietnamese pho. You may also be in an area where key necessary ingredients are not available. All these factors influence how you interview and hire your pho cook.
Secondly, hiring a pho cook depends on the type of food you actually serve at your restaurant. Are you serving pho only, or do you serve other Vietnamese dishes as well? And how sophisticated/difficult are those other dishes to make? In other words, are you looking for a pho cook who can make other Vietnamese dishes in addition to pho? Look at your menu and decide what you will require of your pho cook to do.
Lastly, do you have your own recipes and will you train your pho cook to follow your recipes, or you leave it up to him/her to make pho their own way? Remember, hiring a pho cook, or any cook for that matter, isn't about just bringing someone in and leave things up to him, regardless of his experience. If you do this, then you are opening yourself up for a potential disaster. The critical thing here is, if you are not providing training (or you do not have kitchen knowledge yourself) then you are at the mercy of your cook, regardless of how you find him or how much experience he has. All cooks, like everyone else, must work within guidelines and policies established by the restaurant operation. Pho cooks are no exception.
In the end, when it comes to qualifications, I normally look for the following important characteristics from a pho cook:
Honesty, hard working, cooperative, excellent communication skills and kitchen skills.
Beyond that, experience with Vietnamese food is a plus.
The above qualifications may surprise many, but the real question is: what good is an experienced pho cook who is unprofessional, has bad manners and does not work within your guidelines and company policies to meet your quality expectation? With such individual on your staff, you can really lose money in your business before you even realize it. Likewise, if you are not experienced in running your restaurant, then hiring a good cook alone won't help you.
The bottom line: know yourself and your business first, and know what you want your business to be, then you have the knowledge you need to find a great pho cook who will help your pho restaurant succeed.
Final Note
I receive a lot of inquiries from both aspiring new owners and current operators to help find a "pho chef" for their restaurants. Unfortunately I can't help and don't recommend doing it this way except in very rare cases. I'm neither a headhunter nor a placement service who matches employment candidates to restaurants. I do not find employees for pho restaurants. What I do is coach restaurant owners on how to find trusty and dependable local candidates and train them to become a solid staff members for both FOH and BOH, pho cook included. This is the best way to control your operation, maintain quality, minimize cost, and maximize profits. For a function as critical as making pho, you don't want to leave it to just someone walking in the door and say he/she can do it.
---
If you need help in hiring and training for any staff position in your pho restaurant, book a free 1/2 hour consultation so we can discuss the detail and get you started.