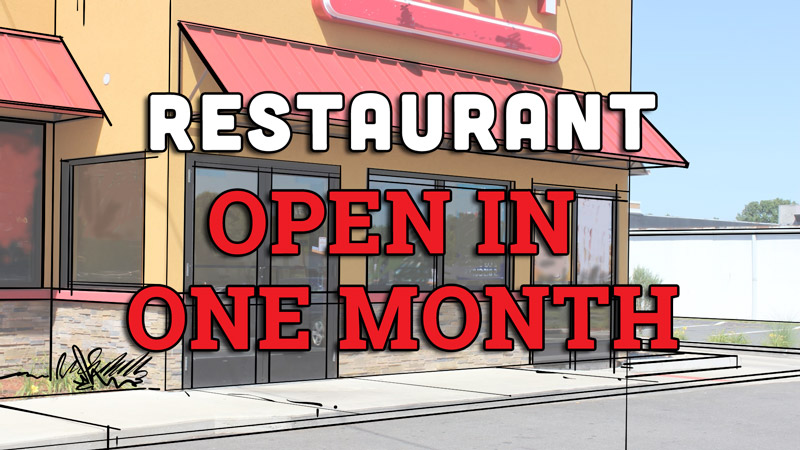 This post is about a small restaurant to be opened soon. It doesn't serve pho but has the exact challenges many new pho restaurants struggle to deal with. I'm sharing it here to convey some important aspects of opening up a new restaurant. I hope you find the information helpful and valuable.
Recently I replied to a question on another forum. It was a long question/message so I'm including here just the important points, followed by my answers/suggestions.
The Question
Some key points from the original post (OP) :
My first restaurant is opening up in just about 1 month and I'm running a thought exercise to figure out just exactly what's left for me to do. Obviously as a first iteration, I'm trying to figure out what I'm overlooking and I'd like to ask for your help. Skip below to see the list I've mapped out and chime in if you feel I'm missing anything.

... Construction slated to complete June 20th and I assume inspection takes place the next day. I also assume this requires 1 processing day before my physical operating permit is available for pickup. So June 22nd would be technically good for opening.

...

My Plan:
The way I see it, as soon as construction and inspections are done, I'm immediately free to open for operation.

[Editor's note: below are some items from the OP's posted to-do list]

...

Hiring employees--Initially I was going to start the hiring process a month out but my boss said in about 2 days, he got about 8 hits for his job application. … So I don't want to hire too soon and have those employees quit/not show up because they've found other gigs. I think starting about 2 weeks out should give me sufficient time to set up interviews, complete paperwork, and training would take place during the soft opening .

Read up on what's actually involved in hiring… relevant forms, who to submit them to, etc

Need to conjure up and put to paper a SOP (standard of procedures for opening/closing)

Produce non-compete and non-disclosure agreements and whatever other paperwork

...

I have no idea what to do for bookkeeping or accounting. Right now I'm just keeping all the receipts and tracking everything in an excel sheet.

...

Grand Opening/Soft Opening marketing--I don't even know how to begin approaching this. So far I've read the differences between each.

Should I design a grand opening banner and if so, when should I post it up?

Should I bother with a coming soon sign/poster?

How should I even properly time the grand opening date with enough of a buffer that could account for construction and unknown delays but simultaneously not set it too far out that we're losing out in opportunity costs with the space just being ready but empty?

Make a NOW OPEN sign?

...

I have had menus designed previously but don't think I will be using them (and even if I were, where do I get menus blown up and installed?). At this point I'm thinking of just having a local artist design my menu on a chalkboard and I'll hang it up on the back wall, behind the counter.

...
Basically it's a long list of remaining things to do in the remaining time before opening, and OP's asking for help from the community if he's overlooking something or missing anything.
The Answers & Suggestions
There are tons of things to do when prepping for grand opening. I don't think anyone can give detailed list or line-by-line suggestions of what you're missing or what you should add. All that said, VDerevyanko gave you excellent points regarding marketing plan, which as he/she pointed out, should have started 3 months ago or even earlier, in my opinion. You said you've been planning this project for 2 years, but without marketing consideration all this time!? A gross oversight, for sure. But rest assured that my input are never about shaming or blaming, rather they're to make the point that most newbies must/should know what they don't know, but fact is they usually don't.

Below are some high priority, high level stuff you may want to focus on asap in addition to whatever items you still have on your checklist. You seem organized and know how to use checklists, so I'm sure you can translate these high level stuff into actionable items.

Menu design. Look into/learn more about menu engineering. Just to be off-topic for a few seconds (but still very relevant): There are different stages of "menu design" depending on where you are in the timeline.
a. Early/concept development stage. "Menu design" means creating something that reflect your concept, brand, your target market, your capability, etc. This is not about graphic designing your menu. Along the way the "menu" should go through iterations to ensure it's still valid for the concept/business goals while incorporate improvements or updates.
b. Mid/build-out/training stage. "Menu design" means recipe development to include food cost analysis; selection of ingredients, equipment and procedures to meet your quality and cost goals; prep and production procedure development, and of course training. You must allow/should expect any of these to help tighten up your "menu". Again this is not about graphic designing your menu, and more about getting your menu to actually work.
c. Pre-opening stage. "Menu design" now means continuous improvement and training, finalizing ingredient selection and inventory system, applying menu engineering consideration as you actually do graphic design of your menu. The graphic design part may result in several versions of your menu including one for your website, one or several for your online ordering/delivery services, in-store menu boards, and possibly printed take-out paper menus. Each of these should look different (to take advantage of each medium) and look the same (to maintain your brand/look). I'm assuming your bulleted items refer to this stage, hence the menu engineering suggestion.

Marketing. Do as much as you can with VDerevyanko' suggestions. [VDerevyanko is another poster on the forum].

Hiring. Consider to follow strict structure in your interviewing, hiring, and firing practice. By the fact that you're considering non-compete and non-disclosure agreements, it seems you are very serious about staffing. So should your hiring process. If you get 8 hits for job application after 2 days, I can tell you that you don't want to hire most of those 8 people. Good rule of thumb: don't hire the first persons walking in your door, unless you really know what you're doing. Bottom line: Give yourself plenty of time to find only good employees, and you won't be among those who say they can't find good people.

Training. Consider giving in-depth training before your soft opening. By definition, soft opening is public opening, not training period. You can and will get negative reviews from soft opening, so why risk it. By my own estimate, negative reviews (1-2 stars) during the first few weeks of opening will require 1 to 3 years for a restaurant to get their total rating up to 3-4 stars. So it's better to train, then use soft opening only for stress tests, confirmation and identification of problem areas for further changes/training.

By the way, since you mentioned "your boss", it's not clear if you're a decision maker. If you're not then these suggestions may be moot. Regardless, hope these help in some ways.
Also I added another followup.
Something I meant to touch on but forgot (with all the other stuff pouring out of my head lol): So if construction is targeted for June 20 completion and OP plans to open to public 2 days later then that's not very realistic. Construction is rarely on time, and 2 days for training, prepare to open and everything else? No way. I think OP won't have enough time to implement any of these things.

To OP: why is the rush? I had projects where the owners tried to beat the first rent payments (which is very poor reason to set opening day imo), without fail they'd regret it later.
The Takeaway
Opening a new restaurant is never easy. There are zillions of things to pay attention to. Even when you think you have done everything, getting the RIGHT THINGS DONE AT THE RIGHT TIME is always a challenge especially for people who've never done it before.
I hope the above information will help those who want to open their own pho restaurant (or any restaurant) to
Do good planning upfront, and
Inspire you to pay attention to the right details at the right time.
Otherwise when comes crunch time, you may have to make decisions based on what you can and cannot do in the time available before grand opening instead of what's best for your restaurant.
---
For help with your pho restaurant, book a one-hour pho restaurant consultation and get your questions answered.