Online coupons can be an effective way to help promote your pho restaurant and bring in traffic.
Offering online coupons is not just for the big chains. Just as the Internet has helped level the playing field between big and small companies in many industries, so have online coupons for independent restaurants to compete with the big guys. So if you're not utilizing the power of online coupons for your pho restaurant, maybe this post can help you decide to get started.
What Are Coupons Any Way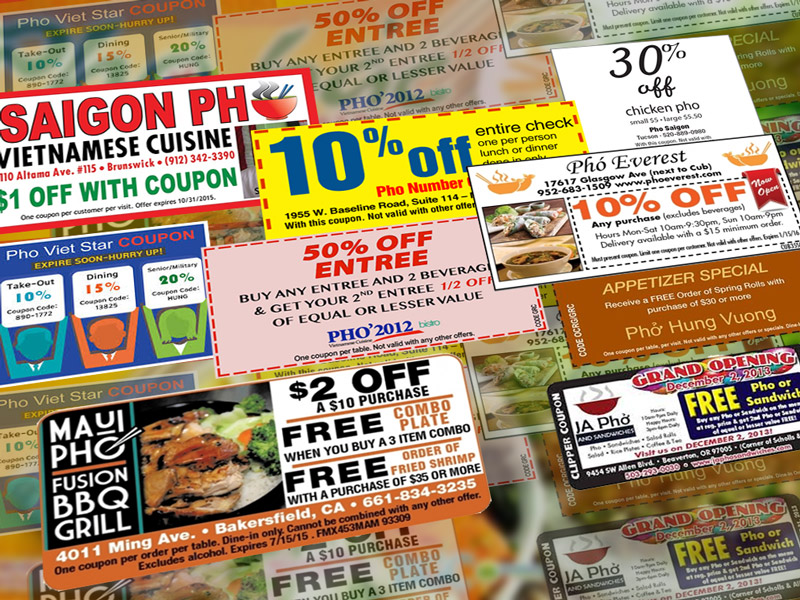 Merriam-Webster defines retail coupons this way:
a usually small piece of printed paper that lets you get a service or product for free or at a lower price
a section of an advertisement that you can cut out and mail to a company in order to request information or to order a product or service
Naturally, these days, online coupons are coupons created, advertised and offered online or electronically, enabled by the Internet and now mobile devices. Printed coupons are still in use by many companies, but online or electronic coupons are more popular now because they are convenient, cost less, and offer unparalleled targeting opportunities such as demographics, location, time, and specific event, among many others.
All coupons are really offers of some kind by a business to attract customers. For the rest of this article, "online coupons" or just "coupons", and "offers" are used interchangeably.
First let's take a look at 5 restaurant chains to see what they're doing with online offers. This is not a exhaustive survey. Rather it's snapshot of who's doing what, what's possible and how you can apply them in your own pho restaurant.
1. McDonald's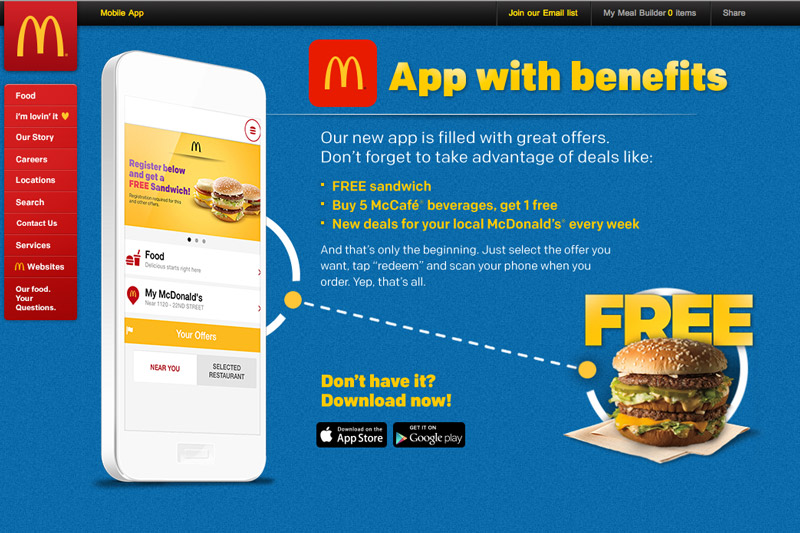 Since their opening in 1955, McDonald's has become the world leading food restaurant with over 35, 000 locations in 119 countries. Obviously, their marketing machine and budget are huge. With the resources that they have at their fingertips and with the advance of mobile technologies, McDonald's runs a lot of their promotions and coupons through their mobile app.
McDonald's has a lot of coupons out on the street at any given time. With an app like this, the company basically put the whole coupon, promotion and customer loyalty machine all in the customers' hands. Any new offer, deal or special that comes on or off of a promotional campaign is run through the app, with everything managed, synched and controlled dynamically and efficiently from their marketing machine. And of course if you are in a geographical area, you can find out if there's any deal going on at a nearby location without having to find and clip any sort of paper coupon. Who would do that nowadays anyway?
Look at the offers from McDonald's app screen:
Free sandwich when you download the app. They know the first step to get this whole thing to work is to get you to download the app itself. So the "offer" is a free sandwich when you download and register for an account through the app.
Buy 5 McCafe beverages, get 1 free. Here's both a powerful and traditional "punch card" type of offer that says if you buy certain items regularly (read, visit a McDonald's location), then you'll get something free. It's a classic punch card done on mobile devices.
Promise of new and ongoing deals at local McDonald's, and show how easy it is to redeem the offers. This is the convenience aspect of getting future deals.
These are just a few things you can do with the app, and there are a whole lot more that McDonald's offers to customers. If you frequent McDonald's and have a smart phone, then the app can turn you from being a bona fide "loyal" customer to a "captive" customer. If you don't frequent McDonald's, then the app may get you to come more often and that's what they want.
2. Applebee's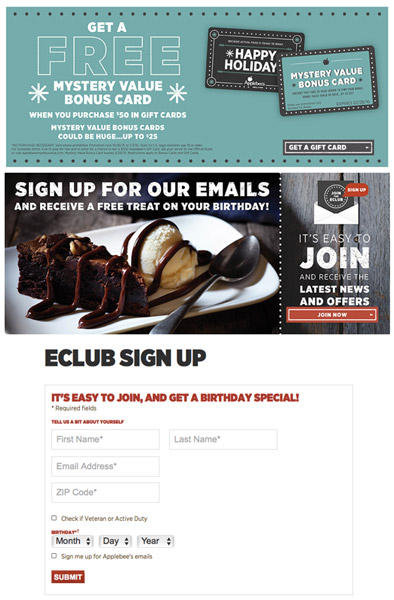 Applebee's is a neighborhood grill and bar restaurant chain, operating more than 2000 locations in the U.S. and 15 other countries. Applebee's concept aims to serve mainstream American dishes in a casual dining settings.
While Applebee's does actually have several mobile apps for various purposes, one of which is of course for mobile ordering, their marketing strategies are focussed on coordinating various online and traditional channels to promote the brand and bring in new and returning customers.
For example, customers can gift Applebee's gift cards in the form of e-cards via emails or Facebook, or send physical cards to home or business addresses. Their E-Club email sign up is for customers to receive coupons in their email inboxes, which is just "old fashioned" email marketing that existed for many years. Overall, they seem to take what they know that work well for them traditionally, and apply them online and to new technologies, all while coordinating everything together.
With Applebee's different channels and ways to provide offers, customers can get stuff like:
Applebee's gift cards, which can be sent instantly via emails, mailed directly to people's doorsteps, or sent via Facebook. You can also purchase bulk gift cards for your whole company. And for this Holidays season (2015) you can get a mystery value bonus card when you purchase $50 in gift cards.
Limited time burger specials every Monday.
Carside To Go which is a curbside pickup for those who order and pya through their mobile app for quick pick up at the door.
The Kids Table, where choices and fun flavors are available for kids. This is the family-friendly, neighborhood restaurant branding of Applebee's and they really push it.
Sign up to receive emails and get free treat on your birthday.
For Applebee's, offering the whole "neighborhood restaurant" experience to their customers is what their brand is all about, and they work hard to maintain that edge with traditional and online offers to help them achieve it.
3. Olive Garden
Olive Garden is a casual restaurant chain, also family-friendly, that serves Italian-American standards such as pastas and salads, plus a full bar. Olive Garden became the largest restaurant chain of Italian theme in North America, with more than 800 locations operating globally.
Olive Garden builds on its reputation of family dine-in experience, and as a result builds its promotional program around offering large portions with affordable group-friendly prices. Menus, deals and offers change regularly. Here are a few of Olive Garden's current offerings:
Save 20% off when you register to receive coupons and news about Olive Garden via email.
Join Olive Garden's eClub to be the first to hear about menus, events, specials and more.
Free appetizer or dessert with 2 adult entrees when signing up to eClub.
A host of other combinations of new meals, pasta choices, and catering options.
The offers given by Olive Garden is extensive, and at times can be very confusing. You can't stop to figure if a deal is good, because they all sound good. You can't help but just go, pushed by all these beautiful food photos at great prices and you know you get huge portions, and if you sign up you'll get even better deals. That's how it works and that's what they do.
4. Sonic Drive-In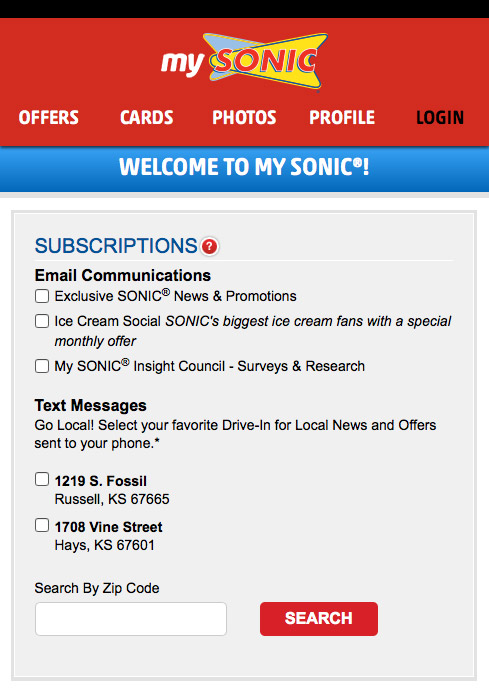 Sonic is a drive-in fast-food restaurant chain which opened in the early 1950s, and is headquartered in Oklahoma City. Sonic Corp. was ranked 10th in QSR Magazine of the top 50 quick service and fast-casual restaurant brands in the United State in 2011. With over 3,500 restaurants in 43 states, Sonic has satisfied millions of customers with their 50's theme.
There's no question, it's like Sonic has been waiting for mobile devices all these years. Sonic restaurants with people driving in, parking and eating in their cars together with a mobile app seem like a perfect match.
Sonic's mobile app becomes an important part of their promotion and customer loyalty strategies. Here are some of the things they do with it:
Join My SONIC for valuable rewards and a personalized Sonic experience. This means registering for an account to print and view offers on mobile devices, register and reload My SONIC Cards, upload and share photos, etc.
Wing Night in America, buy 1 get 1 free wings every Monday 5PM to close.
Sign up for Sonic's Texts, get text messages with exclusive offers and latest news. Just enter your mobile phone and you're set.
It comes as no surprise that, beside the corporate website, both of Sonic's other two main sites are mobile friendly. The My SONIC site is mainly a customer loyalty tool, and the Sonic On The Go site is for placing orders. Sales is everything, and the chain is targeting people on the go, that's for sure.
5. Burger King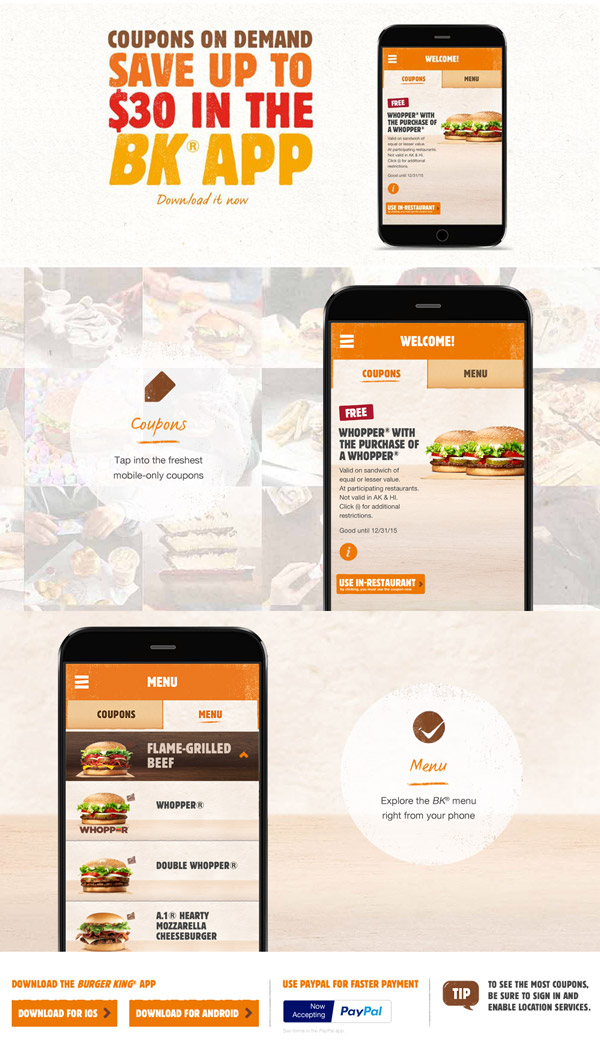 Burger King fast food restaurant, also sometime known as BK, was founded in 1953 in Jacksonville, Florida. Burger King is also one of the most popular restaurants in the United State with over 13,000 locations in 79 countries. Many consider BK to be a strong direct competitor of McDonald's, and you can see many BK restaurants within close proximity of a McDonald's.
Again, in addition to the numerous printed ads that Burger King have out in the wild, electronic coupons on demand via a mobile app is where the new action is happening. BK is aggressively pushing its app. Check out these current promotions:
Download the app and save up to $30.
Exclusive mobile-only coupons, with coupons refreshed frequently to draw traffic. Coupons like free Whopper with a purchase of another Whopper,
Explore the menu then order and pay right from the mobile phone. Or use your phone to pay when you pick up. Or pay wallet-free with a Virtual Card.
Find nearest locations, get nutritional information, etc.
BK Crown Cards. Order a BK eGift and have it sent to your email, or you can order a plastic gift card and have it shipped. Also you can buy a corporate gift card with the ability to reload, check balance and manage cards in bulk.
Along with the tool (the app, the deals, the coupons) BK is also pushing aggressively its marketing machine to sell. To see more coupons, be sure to sign in and enable location services. Check back often to see new deals. Use Paypal for faster payment. BK For Kids and kids meals with healthier choices like fruits, juices and milk.
So you can't just have coupons and apps, you have to push them aggressively. That's what these guys are doing.
So What Are The Big Companies Really Doing
As a matter of course, large national and chain companies are expected to utilize coupons and offers to the max, and they do. If you can filter through all the noisy, colorful and mobile app jumbles, there are actually valuable things that can be learned from the big guys, many of which can be readily applicable to a pho restaurant.
From the quick survey above, here are some clear takeaway points:
Good product: You must have a product that people want, make its quality good and consistent, and you must present it in an attractive way.
Good price: You must have great deals, and your value proposition must be easy to understand and easy to get.
Good promotion: Regardless of how your restaurant is doing, marketing and promotion is a constant and ongoing thing.
Good place/channel: Whatever coupons or offers you utilize, you must build a strong flow of information between you and customers. The common thread that these large companies still use is an email marketing campaign. You can't do without email marketing because it's still a strong method to build a following and communicate with them directly. Keyword: directly.
As shown by the new technologies and how these companies are using them, there are a lot more value and service added to the whole dining experience before you can put "butts" in "seats". These days, restaurants must offer good dining experience that gives people reasons to come back. Thats' exactly what the big guys are doing.
How To Implement Online Coupon Program For A Pho Restaurant
All this may seem a bit too overwhelming, so is there anything a pho restaurant can take advantage of with online offers and coupons? While it's not for everyone, online offers can provide a big boost in marketing and sales for those who are ready for it. Before a pho restaurant considers it, it's best to get prepared and get your house in order first. Here's what I mean.
These days it's not just about asking customers to "buy something and get a discount" with a coupon anymore. It's still very much about providing quality food, serving them in a convenient way, respecting their money and time, understanding what they want, and communicating directly with them. In fact this is the classic four Ps of marketing: product, price, promotion (communication), and place (or the channel on which you communicate with customers).
And when it comes to marketing, like in most any situation, it doesn't matter how much effort and money you throw at promoting your business, if your food or service is not good, then you'd be promoting for nothing.
So before a pho restaurant can take advantage of online offers or coupons, it needs to get its business house in order first in all the Ps mentioned above. Then assuming you have a good operation going, let's see how we can implement an effective online coupons program in a pho restaurant.
The first thing a pho restaurateur needs to do is have a clear business goal defined, then create attractive deals to offer to customers. Many people pull deals out of thin air and offer them to customers without knowing how much money they lose with each sale. What you should do instead, is to package up your deals that not only are attractive to your market, beat the local competition, but also meet your food cost, traffic and revenue goals as well.
Next, look at your implementation plan. Review the offers and understand what they require your business to do, how they impact your daily financial goals, your other product sale figures, your operation and staff training, and how you will measure the offers' results. This means you need to be able to track performance of your deals and offers, and make adjustments to improve future campaigns. Remember, this is not a one time thing. You need to establish a system to manage online offers as part of your ongoing business operation.
Third, assess the market to see what SaaS (Software as a Service) providers are available that will meet what you want to do (features, cost, time to learn, time to implement, backend analytics, etc.).The good thing is new SaaS products are becoming much more abundant and affordable these days. I can't and won't recommend any particular service as a generic solution, not because I don't know of any good SaaS provider, but because each business is different and has different customer demographics, and each SaaS provider has a different set of features they offer. There are some great tools out there and the big restaurants shouldn't be the only ones using them.
Next is implementation. This is the part when things happen, bringing everything from steps 1 through 3 and get it out to the market. It's important to be aware that, while you are using the online coupons to promote your pho restaurant, you must also promote the online coupons program itself. Many people do not promote the offers, then end up determining that online offers don't work. You don't want to fall into this trap. Promote the offers anywhere and anytime.
Last step is to measure how your online offers are working so that smart adjustments can be made to improve the program's performance. Again, the good thing is, as part of many SaaS tools available, backend analytics are available to help track how the offers are doing, who are using them and how, when, etc.
There it is, a five-step program to implement online coupons for your pho restaurant. It's not for everyone, and it will require the pho restaurateur to have vision and desire to learn new ways and tools and then apply them to her pho restaurant.
Like everything else in a successful restaurant operation, it takes planning, execution and attention to details. Once the decision is made to do online coupons or offers, however, it can be one of the best marketing strategies to implement, maintain and expand to attract mobile phone-centric customers to your pho restaurant.
Need help with setting up an online coupons program for your pho restaurant? Please contact me.