I had the pleasure of working with architect Quynh Tran in a San Jose pho restaurant project. If you've read any of my other posts on pho restaurants, then you know how highly I value an architect's contribution to a pho restaurant's success.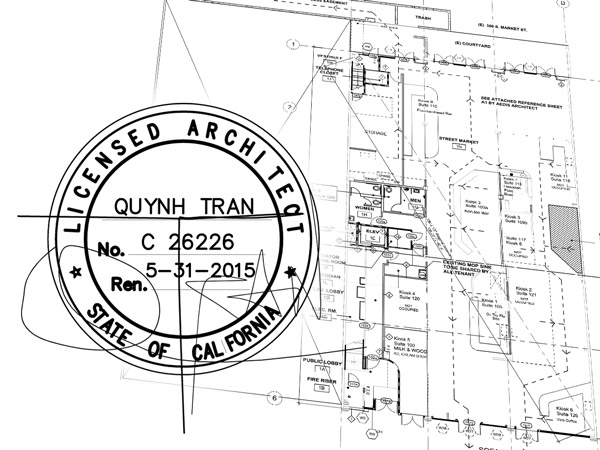 An architect, a consultant and a general contractor are the 3 most important professionals who can help determine how successful a pho restaurant can be or not, beside the commitment of the owner of course. The architect is the one who will make sure everything in your plans will meet codes, and can represent you in almost all communication with regulators in order to obtain permits for your restaurant.
Here's a conversation I had with Architect Quynh Tran. I hope you find information interesting and helpful, with a little peek into an architect's mind.
LV. (Lovingpho): Tell us a little bit about yourself.
QT (Quynh Tran): A Vietnamese born American architect, arrived to the States in 1975 at 18 year of age. I am educated in America, I have life long interest in architecture since childhood, also a deep understanding in Vietnamese culture/ cuisine of the 3 Viet Nam provinces.
LV: How long have you been practicing as an architect.
QT: I started out as draftsman, 10 years of internship and professional licensed for 20 years.
LV: What are some of your favorite projects you've done, restaurants or otherwise.
QT: I have worked on many projects including religious building, high density living complex, and small boutique shops such as restaurant and retail.
LV: What or who influences your creative and/or technical work in a major way.
QT: I was influenced and became interested in architecture at younger age through my father's influences who was a builder in Viet Nam and by looking at plans in his office.
LV: What do you enjoy most about the field of architecture or being an architect.
QT: I enjoy making ideas become reality, through artistic vision and through understanding construction technology.
LV: There are countless reasons for plan reviewers to deny issuing permits the first time. Can you share some of the more preventable things that a restaurant owner can learn from to help push their plans through a little smoother, better and more efficiently.
QT: Understanding codes, knowing city ordinance and the way each city conduct their business on reviewing plans, are great helps. Beside that, being knowledgeable in other engineering fields such as mechanical, plumbing, electrical will help to coordinate all pieces of important information together.
LV. What are some of your favorite areas within a typical project that you really enjoy tackling, restaurants or otherwise.
QT. It is hard to pin point where the favorite area would be, however I can say the least favorite area is going to the city for Express Plan check. It requires lot of knowledge on other fields to answer questions from the plan checker (see #6).
LV. What is the typical mix between commercial and residential projects in your portfolio.
QT. I am working on a 40,000 SF, 4 story of mixed-use condo and retail development, still in preliminary design phase.
LV. If you run into a dream project, maybe one with unlimited budget or allows unlimited creativity, what are some of the things you'd incorporate in the design.
QT. I like to incorporate the green living, self sustained village, where people live and work, producing own food and entertain at the same vicinity, it can be at the center of a city or remote farming area. Construction material can be reusable in the future, with no construction waste to the dump site. Also: efficient energy usage, less gas fuel and more wind, solar. I can go on about this idea forever....
LV. Last but not least, are you very conscious/critical every time you step in front of a building, or inside of it. Do you actually exercise your architect's eyes or mind all the time. Why or why not.
QT. Yes, all the time, I am an architect, I look at it the way the conductor listen to a piece of classical.
As you can see, there are lots of things going on in a restaurant project that can benefit from the knowledge of an architect. And a good one can bring a lot more to your business than just making and submitting plan drawings. If you have any question for Architect Quynh Tran, please use the contact form and I'll pass it on to him.
Please leave feedback and comments in the comment section below.