I must admit this post is rather old. I've been busy helping people open and run their pho restaurants (with customized recipes for each, of course) so have not time to redo a survey of more recent recipes suitable for making pho at home. So I will get back to this shortly. For now, I highly recommend you check out either
Quick Beef Pho Recipe with Quoc Viet Foods' Pho Soup Base
or Lovingpho's own
Beef Pho Recipe infographic
.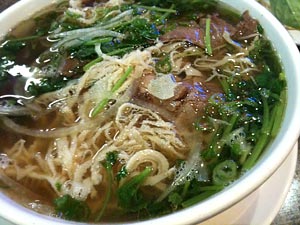 Updated 03-14-15
.
Pho recipes
 come in great numbers around the Internet and you can find them easily using your favorite search engine. Some
pho recipes
are penned by well-known chefs and culinary experts, while others are shared by experienced pho cooks and private citizens. The most popular, however, are the ones written by chefs and published in various cookbooks. So here's a collection of the top
pho recipes
you can find on the Web.
It should be pointed out that this list is different from the list already published as "Ten Pho Recipes from Around the Web," which was more of a random sampling of pho recipes at the time I wrote it. Many are not as authentic as they should be, and two of those ten are very good, solid recipes by two of the most respected experts in Viet cuisine. I published that article in a rush, so now with a little more time and effort put into it, here are my pick of must-have top pho recipes.
Top Beef Pho (Phở Bò) Recipes
Top Chicken Pho (Phở Gà) Recipes
Top Vegetarian Pho (Phở Chay) Recipes
I ranked the recipes using simple numerical ratings of 1, 2, 3, etc. with 1 being best. I left many recipes at the same level because I feel that, once they achieve what they set out to do (that is, to show a neophyte how to make pho themselves for the first time,) there is no point of picking one over the other. They are all good. They have variations among them, but all the basics are there and you can't go wrong with any of them.
For the beef pho, the recipe with rating of 2 did have bones in it but did not parboil the bones, making the broth less ideal and "clean" although the instructions did say to "scrape" and discard the scum. Plus it uses bay leaves and fennel seeds which may get the taste a little off for those who know pho well. I gave it one level down but it is a good recipe.
Chicken pho is relatively very easy to make, and the chicken pho recipes listed here are all pretty solid. They all get 1's.
For the vegetarian pho, I would prefer fresh vegetables, but these 2 are very good vegan pho recipes using pre-made vegetable stock. The Gastronomer gets top billing here for its great technique on the vegetarian "meat" and use of leeks in the broth. There are still other recipes using fresh vegetables, but I felt the vegetables used in those recipes really do not lend to the right flavor to make pho and may even be a little off-taste. Of course, a vegetarian dish can use any vegetable. But because it is pho and not just a vegetable soup, the flavor profile has to be correct. Anyway, I'll discuss a little more on this subject in another post.
The bottom line?
As you can see, many of these are great pho recipes. As we all know, it's all in the pho broth, so concentrate on how to make the broth. Once you've got the broth, the rest is easy and will just fall into place. Check 'em all out, pick one, make some and enjoy.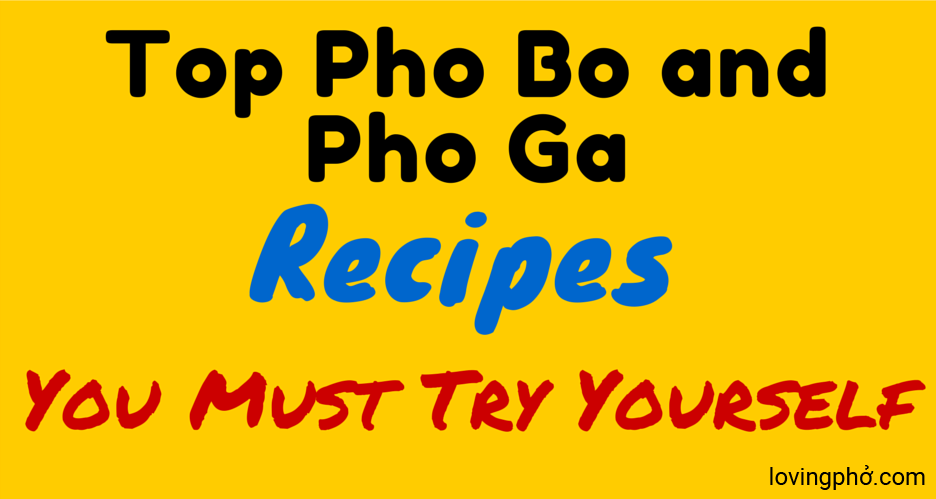 But what is the REAL bottom line? It is this: Just pick one of these recipes that strikes your fancy and go with it. After the first or second time using it, I guarantee you will want (and know how) to experiment to get what you really want, by adjusting or adding ingredients. You'll have a feel for what each ingredient contributes to the broth's awesome and unique flavor, and will be able to make the changes to fit your taste. Remember, these recipes are only a staring point. Beyond that, you should be able to make the pho that you enjoy. You may incorporate some other ingredients or try out a "secret" element you've read about or heard from someone. You don't really need to find the "best" recipe; because it doesn't exist. You just need to start making pho. Whatever you do, don't forget to try that pho chay. Delicious!
For additional help, read my post on Easy Fixes to Common Homemade Pho Problems, where I provide additional helpful tips to either reinforce or elaborate on the instructions from many of these recipes. Follow those and you will have a great pot of homemade pho to feed a whole bunch of hungry family and friends.
Good luck and let me know how I can help.
By the way, a decent alternative to cooking pho broth for hours on end is with Quoc Viet Foods' Pho Soup Base.
And one last thing, please take this poll.

Loading ...
Originally posted 09-12-09.