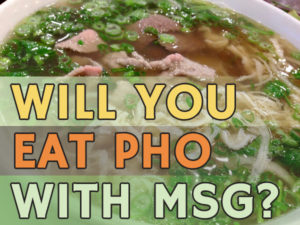 Here's an update on the Pho and MSG poll I have running for a while on the site with some of my assessment. A warm thanks to all readers who took the poll. If you haven't already done so then please join in and take the poll. Just click on the "Vote" link.

Loading ...
---
The above poll itself is live and changes over time. For this post, let's take a closer look at the results as of August 5, 2017 (snapshot below) to see what pho eaters are telling us about their feelings regarding pho and MSG.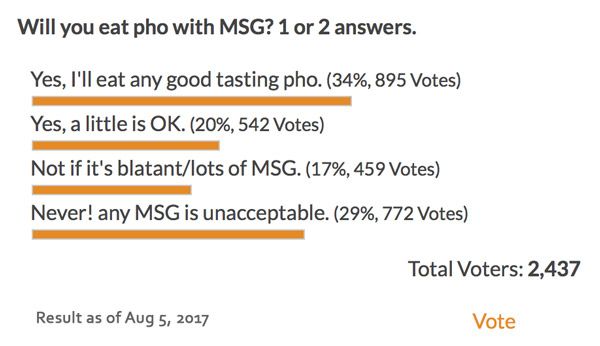 It looks like 54% (34% + 20%) of poll takers are okay with having MSG in their pho. If we stretch this to further include the 17% who say they'll eat pho if MSG use is not blatantly excessive, then we'd have an overwhelming 71% (more than 2/3) who would eat pho that have MSG in it. At the other end of the spectrum, almost 1/3 says they'd never eat pho with MSG.
So here's my take on this.
It is reasonable to assume that this result may include a few outlier restaurants that use excessive MSG in their pho. The reality is, and this is my educated guess, that most would use MSG only as needed.
It's also reasonable to assume most people are actually voting based on their experience of having good, acceptable and edible pho that may have any level of MSG in it. As long as the pho is good, and the eaters experience no problems and are willing to pay for it, then the 54% or even the 71% result is valid.
Of the nearly 1/3 of people who would never eat pho with MSG, it is mind-boggling to me if they're all allergic to or have some problem with MSG. According to the FDA's Questions and Answers on Monosodium glutamate (MSG), 'FDA considers the addition of MSG to foods to be "generally recognized as safe"'. It would makes no sense if the FDA says this about MSG use in foods if this many people actually have problems with it. Hence my next point.
I would

not

argue that a small number of the "never MSG" group really shouldn't eat foods with MSG in it for various and real symptoms that they experience. There are some who

do

have allergies (which can be violent or even life-threatening). But what about the rest of the 1/3 "never MSG" group? My theory is, it may all be in their heads.
So do you agree or disagree with my assessment above? Love to hear your feedback on the subject.
If you're a pho restaurant operator, what is your experience on this?
Share in the comments below.
Read my other post on MSG: Vietnamese Pho With No Monosodium Glutamate (MSG)? Sure You Want It That Way?
---
To find out how I can help you open your own pho restaurant, or improve your existing operation, please use the form on the Pho Restaurant Consultation page.