Updated 12-31-19. You may have seen my articles on pho restaurant business plan (see links above). Here's the fourth in the series to help put a little more meat on the bone (no pun intended 😉 ).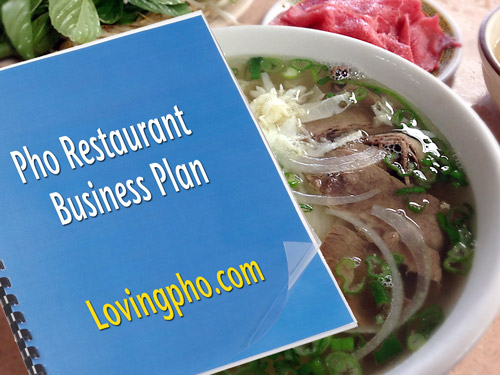 At its core, a great business plan must tell the reader about the business; the business' reason for being; its value proposition, mission and vision; how it will live, play and survive in the marketplace (external factors); how it will operate to achieve its goals and beat its competition (internal factors); how it will determine its success or failure; and whether it will make a profit and when.
For those who want to do your own research and/or write your own pho restaurant business plans, then the information below serves as a template for you to start. If you'd like me to assist, then you can employ my service to create a pho restaurant business plan for you.
Pho Restaurant Business Plan Template
So without further ado, here are the key elements of a solid pho restaurant business plan.
COMPANY DESCRIPTION

Company name
Restaurant name
Business address (if known)
Restaurant description
Restaurant concept (quick serve, fast casual, full service)
Capitalization
Legal structure (owners and ownership format)

BUSINESS CONCEPT

Concept description
Business vision and mission statement
Value proposition
Sample menu
Restaurant design/layouts
Goals and objectives (first 12 months, 2nd & 3rd year, beyond 3 years)
Professional advisor(s)

MANAGEMENT TEAM

Owner/operator
General partner(s) if any
Minority partner(s) if any
Management agreement
Confidential agreements

MARKET ANALYSIS

Industry assessment
Target market
Location analysis
Competitive analysis

MARKETING STRATEGY

​Online presence (website, social media, review sites, etc.)
Customer database
Frequent diner/loyalty program
Email campaign
Mailer campaign
Community/charity involvement
Business relationships
4 walls marketing
Public relations
Advertising

OPERATIONS

Staffing
Training
Daily operations and production
Customer service
Suppliers
Management controls (POS, time & attendance, scheduling, checklists, inventory, cash audits, performance/safety/liability reviews)
Administrative systems (daily cash control, weekly prime cost report, purchasing records/payables, accounting system, payroll processing)

INVESTMENT ANALYSIS

Source of funding
Capital contributions (investment roles)
Return of investment (ROI) analysis
Equity analysis

GROWTH PLAN/EXIT STRATEGY

Expansion plan
Investor exit options
Investor expansion options

FINANCIAL PROJECTIONS

Project sources and uses of cash
Capital budget (start-up cost projections)
Sales projection
Hourly labor projection
Detailed statement of income and cash flow - Year 1
Summary statements of income and cash flow - Years 1-5
Return of investment projection
Break-even cash flow projection

PRO FORMA

Spreadsheets/worksheets to support section 9 above.
So there you have it. If it looks overwhelming, then you're right. It is overwhelming and is a lot of work.
But opening and operating a restaurant is a lot of work, so you might as well know this now, right?
When properly used, the business plan template above will lead you step by step to fill in all important aspects of your pho restaurant business. It will help you organize your thoughts and plans, and will keep you on the right path.
Those opened and failed most definitely didn't have a business plan to work with. Many who opened and succeeded without a business plan are mostly lucky. Nothing wrong with being lucky. In fact all successes have some luck associated with them. But what matters most is what you will do now that you're lucky enough to survive initial failure, what you will do to ensure continued luck to come your way.
For aspiring pho restaurant operators, it should be clear which route one should to take: have a business plan and follow it, and make your own luck.
Please leave your feedback in the comments below and let me know what you think.
---
For professional assistance with a business plan and pro forma, head over to the page Pho Restaurant Business Plan and book a FREE half-hour consultation to get started.