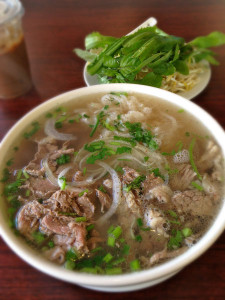 Updated 01-20-19. Want to know how to open a pho restaurant? You've come to the right place.
I've created this series on how to open and operate a pho restaurant, end to end, to help aspiring pho restaurateurs to achieve their dream. Not everyone can do this restaurant thing; it's restaurant business after all (read: hard work, really hard work).
But for the few who have the heart and the desire, they can definitely find great pleasure, satisfaction and success.

I'm always involved in one pho restaurant project or another. As I start to help others open their own pho restaurant concepts, I've gathered plenty of experience on how to do this, and I knew this is a great opportunity to share with others tips and guidance on how to open and operate a pho restaurant concept.
For the aspiring pho restaurateurs, I hope these articles can give you additional help to prepare and deal with the challenges ahead Knowledge is power after all, and it is especially true in the restaurant business. Having this knowledge I'm sharing also means that you will avoid wasting major time and money like others have done before you.
I'll be sharing ideas and steps to take on all aspects of designing, building out and successfully operating a pho restaurant. We'll be going over concept development, design, kitchen operation analysis, and buildout of a pho restaurant. We'll be talking about customer service, staff training, front-of-the-house and back-of-the-house operation and procedures. We'll be discussing recipes, ingredients, food costs and labor costs, and how to deal with suppliers as well. Lastly, we'll also touch on the areas of inventory control, food safety and sanitary issues.
I hope this series will be interesting to many pho customers (the consumers), and will benefit existing and potential pho restaurant operators alike.
For those needing help immediately or having very specific questions, you can book a one-hour pho restaurant consultation below and get your questions answered.
Consultation in Vietnamese and/or English as you prefer.
You will be booking in your local time zone, based on location of device you're using.
My location is San Diego, CA, USA (Pacific Time Zone (PT), Western US).