Beef Pho Recipe Infographic By Lovingpho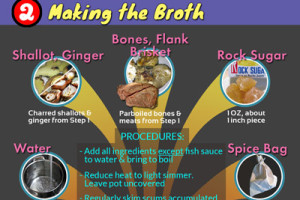 Updated 03-04-19. Here's Lovingpho's own beef pho recipe in infographic form. This beef pho recipe yields about 20 quarts, which is about 20 regular size bowls you can typically get at most pho restaurants. With this size, you can make it once, enjoy it, and have plenty of leftover to freeze for quick pho anytime later.
It's quite easy to scale up or down depending on your desired size. Just do straight linear scaling and you can't go wrong. Of course, you can adjust any element to customize to your own taste. Let me know what you think, and leave a comment below.

@Dee Dee: Thanks for your comment. Regardless of which pho recipe you follow, many non-Viet people misunderstand what role fish sauce actually plays in Vietnamese cooking. Don't let the name fool you. In Viet cooking, fish sauce is a versatile cooking ingredient. For the vast majority of dishes, it's used as regular seasoning during the cooking process as well as a dipping sauce (both mixed and unmixed) at the table. It's also used in many marinade recipes for all kinds of proteins, especially those to be grilled on open fire.
In the early days of Vietnamese food being introducing to North America, Australia and Europe (mid 1970's to even late 1980's), Westerners wondered about unique taste and bold flavors in Viet foods that they never experienced in Japanese and Chinese foods, which are more soy sauce based. It was fish sauce in many Viet dishes, and it was not just in pho.
Try it the next time you make your pho or any other Viet dishes, and you may have a pleasant surprise. And like any ingredient, know how much to use and don't overdo it. When done correctly, it should not "kill" or overwhelm any other taste in a dish, and no one should be able to detect any fishy taste at all.
Great finding this site and recipe. I host a pho party every year during winter for around 50-60 friends. I try different recipes each year trying to improve, but last years was by far the most "bland". This year I'll try this one, and also add in oxtail which I haven't yet done.
Great site!