Beef Pho Recipe Infographic By Lovingpho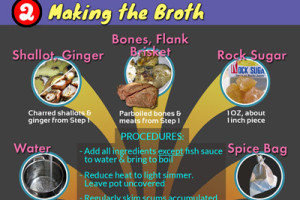 Updated 03-04-19. Here's Lovingpho's own beef pho recipe in infographic form. This beef pho recipe yields about 20 quarts, which is about 20 regular size bowls you can typically get at most pho restaurants. With this size, you can make it once, enjoy it, and have plenty of leftover to freeze for quick pho anytime later.
It's quite easy to scale up or down depending on your desired size. Just do straight linear scaling and you can't go wrong. Of course, you can adjust any element to customize to your own taste. Let me know what you think, and leave a comment below.

@Dee Dee: Thanks for your comment. Regardless of which pho recipe you follow, many non-Viet people misunderstand what role fish sauce actually plays in Vietnamese cooking. Don't let the name fool you. In Viet cooking, fish sauce is a versatile cooking ingredient. For the vast majority of dishes, it's used as regular seasoning during the cooking process as well as a dipping sauce (both mixed and unmixed) at the table. It's also used in many marinade recipes for all kinds of proteins, especially those to be grilled on open fire.
In the early days of Vietnamese food being introducing to North America, Australia and Europe (mid 1970's to even late 1980's), Westerners wondered about unique taste and bold flavors in Viet foods that they never experienced in Japanese and Chinese foods, which are more soy sauce based. It was fish sauce in many Viet dishes, and it was not just in pho.
Try it the next time you make your pho or any other Viet dishes, and you may have a pleasant surprise. And like any ingredient, know how much to use and don't overdo it. When done correctly, it should not "kill" or overwhelm any other taste in a dish, and no one should be able to detect any fishy taste at all.
Great finding this site and recipe. I host a pho party every year during winter for around 50-60 friends. I try different recipes each year trying to improve, but last years was by far the most "bland". This year I'll try this one, and also add in oxtail which I haven't yet done.
Great site!
Tôi có hai vẫn đề cần anh giúp :
1- Sau khi các gia vị phở hầm một thời gian tiết ra màu nâu làm nước phở nhìn không đẹp mắt dù vẫn trong . Anh có thể chỉ dẫn cách khắc phục để nước phở không bị đậm màu không ?
2- Ngày xưa khi tới trước tiệm phở là đã ngửi được mùi phở thơm phức , vậy làm sao nấu phở có mùi thơm toả hương ngào ngạt như vậy ?
Rất cám ơn nếu được anh chỉ dẫn .
Moderator English translation:

I have two issues needing your help:

1- After the spices have been simmered for a long time, the broth has a brown color which is quite unsightly, though the liquid itself is clear. Can you provide instructions on how to prevent the broth from becoming dark?

2- Once upon a time, when you came to a pho restaurant, you could smell the fragrant pho outside upon arrival, so how do you make pho that gives such aroma even to outside?

Many thanks if you can provide some guidance.
Thank you for answer . I will read and try , hope I will get more fragrant of Phở . I like when open the door people smelt the fragrant of Phở right away . I love that smelt a lot , can you help me how to get more smelt of Phở ? I cook at home only good flavor but not much smelt .
I am lucky to found your web to learn more about Phở . Thanks again for all information.
Thanks you for answer ,
Yes I did cook by myself whole time until my friend come over but they don't known I cook Phở until they come to kitchen . All my friend want to eat Pho when they come to my house . With me I still not complete satisfied with smelt . Do you think the herb need to increase ?
The Fat on top of the soup not take out ?
I'm happy to have found this recipe and I definitely plan on trying it! I have a question though - rock sugar - is this a must ingredient or can I substitute white sugar for the rock sugar and if yes, how much white sugar? I live in an area of the US that is not very diverse culinary-wise, so I know I won't be able to find rock sugar near me. Thank you!
Thanks for sharing this recipe! I read elsewhere on this site that you recommend grinding up the spices to get more out of them. Can I use my coffee grinder to do this, and when used in the cooking, should I adjust the cooking time of the spices (and maybe when to best add them in)? Thank you.