Updated 03-16-22. With its awesome goodness, it's no wonder Vietnamese pho made a strong foothold in many places outside of Vietnam. Pho may be the national dish of Vietnam, well entrenched in Vietnam's culture and history, yet once again pho has crossed cultural boundaries to be embraced in a foreign land. This time: Australia.
One can easily say with certainty that the people from Down Under are just as crazy about Vietnamese pho as their American counterparts. Just as in other countries across the globe, what had started as an attempt of Vietnamese immigrants to derive what comfort that they can from a bowl of noodle had become a countrywide sensation. Australians love their pho just as much as the Vietnamese do, and the presence of pho in Australia is almost as prominent as it is in the United States.
How Pho Came to Australia
The story of how pho came to Australia goes pretty much the same way as the arrival of pho in other countries went. The key year is 1975 and the key event is the Fall of Saigon. During this time, an exodus of Vietnamese refugees escaped Communist rule, fleeing their homeland in droves and arriving in refugee camps in the Philippines and the island of Guam.
While many Viet refugees made it off the islands for settlement in the United States or Europe, many others were accepted by the Australia. In addition there were also Boat People who never did come to the refugee camps. In reality, they somehow found their way to Australia directly by sea. Australia was the longest distance that many Vietnamese Boat People with their rickety boats have traveled to escape communism in Vietnam.
Given their mutual experiences of pain, hardship and sorrow from being uprooted from their homeland and exiled in a foreign country, the Vietnamese clung to each other as they formed their own communities in Australia. Now all major cities in Australia have their own Vietnamese community.
And as they always say, where there are Vietnamese, there is bound to be pho. Pho is a remnant of home and is something that the Vietnamese cherished and held on to. Their love and passion for pho is a love that did not diminish despite the passage of time, the long physical distance and the generations removed from home. Australians picked up this love that the Vietnamese had for their pho and learned to love it for their own. Pho is just good food.
Australian Adaptation of Pho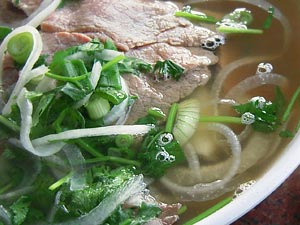 Regardless of what happens, pho will always maintain its authenticity by the Vietnamese who enjoy it everyday. The Australians learned to love pho the way it is, the rich and hearty soup noodle that the Vietnamese introduced to their palates. But this is not where the story of pho in Australia ends. As the Australians and Vietnamese Australians took to this new dish, the dish also began to morph itself in order to adapt to its new surroundings.
Beef is not a problem in Australia; in fact, it is one of the few countries where beef comes cheaply. There are many farms and ranches that raise cattle for beef on this island-continent, so there is always a steady supply of beef in the market.
The same, however, cannot be said for the herbs and spices that make Vietnamese pho such a refreshing dish to eat. At least in the earlier years (post-1975,) few of the spices required in making pho are grown locally, and so are the herbs. In other words, herbs and spices are somewhat expensive in Australia. As a result, the kind of pho served typically in restaurants in Australia is more reminiscent of pho bac, the frugal pho served in the northern regions of Vietnam. A bowl of pho bac is traditionally not served with the familiar plate of garnishing that contains basil leaves, bean sprouts, culantro, chopped Serrano chili and lime wedges.
The focus of pho bac is the rich and meaty tastiness of the broth itself, something that northern Vietnamese cooks believe does not need any livening up from additional herbs and spices. Pho in Australia is veering towards this trend, where the broth is richer and beefier, unspoiled by indulgent herb garnishing.
The rich meatiness of the broth is not the only thing that distinctly characterizes pho in Australia. Many pho reviewers in Australia also noted that pho in Australia is somewhat sweeter than what you may be used to in, say, the United States or in Vietnam itself. This sweetness in pho in Australia is often said to be a nod to the southern Vietnamese style, or is an influence of Thailand on the dish.
In recent years, with abundant availability of all ingredients and free communication and trade across all borders, you can pretty much find and order any pho you like.
Pho - Bridge in Diplomacy and Art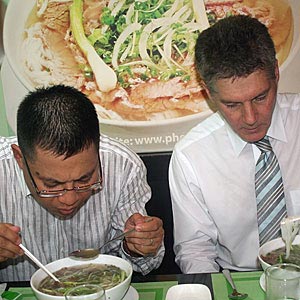 Honorable Stephen Smith Having Pho with Ly Quy Trung of Pho 24.
Photo courtesy foreignminister.gov.au
Pho does not only serve as a way to fill a hungry stomach or to satisfy a craving. Pho can also play a role in forging diplomatic relations and be a medium of expression in art.
In July 2008, the Honorable Stephen Smith, the Australian Minister for Foreign Affairs, made the news and scored points for Australia in Vietnam when he made a visit to a popular Pho 24 in Hanoi. There, he donned a chef's apron and hat, visited the kitchen, and fixed a bowl of pho for himself. He then enjoyed this meal in the company of Pho 24 founder Ly Quy Trung. You can read more on the Australian Minister for Foreign Affairs website, and on this VietNameNet.vn page. Note: Both of these sources are no longer available online.
According to the VietNamNet Bridge report on the event, "the Australian Foreign Minister's experience at the pho restaurant in Hanoi was a chance for him to further understand the extended cooperation between Vietnam and Australia in education."
Pho is also the staging point for the Australian traveling exhibition called "I Love Pho." It is a multimedia exhibition organized by Cuong Le, who also served as curator for the project, and it included works from renowned Vietnamese Australian artists.
In an interview with the Chubby Hubby blog, Australian pho expert Cuong Le said that inasmuch as pho is a well-loved dish both within and outside Vietnam, the Vietnamese "only become mad about pho when we are displaced physically and spiritually." Pho sits at the heart of Vietnamese culture and Vietnamese Australians, and most Vietnamese all over the world, eat pho as a way to maintain a throbbing link with that heart.
Finding Pho in Australia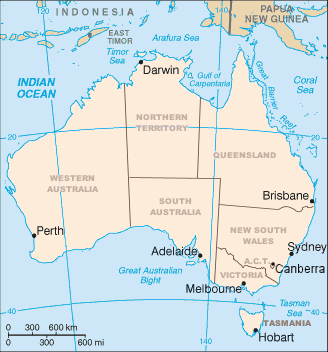 The Australian continent is a big place. There are Vietnamese restaurants scattered all over Australia, and there are still many more restaurants that specialize in serving only pho. These restaurants come in different styles - fast food joints, food court kiosks or classy, fine dining establishments. Many restaurants are reputed to serve a good bowl of pho cooked in the evolving "Australian style" - with a rich and meaty broth, tender beef cuts and not a lot on garnishing. Others, like Saigon Bay Restaurant, are taking Vietnamese pho, and Vietnamese cuisine in general, to the next level of quality and service. These include web-based ordering system, home or office delivery, discount campaigns, online table reservations, and catering for private and corporate functions, all while maintaining the authenticity of the dishes.
If you want to find the best Vietnamese and pho restaurants in Australia, head over to Mansfield Park Campbelltown (about 6.2 miles or 10 kilometers north of Adelaide, South Australia) or to Bankstown (in Sydney, New South Wales.) Some natives also point straight to Footscray (near Melbourne, Victoria,) Richmond (Melbourne, Victoria) and Springvale (south-east of Melbourne, Victoria) for excellent, authentic pho.
Pho Bà Rịa 2, 54c Hanson Road, Woodville Gardens SA 5012, Australia

View Larger Map
Phở Chú Thể, 270 Victoria Street, Richmond, VIC, Australia

View Larger Map
Richmond is located at the inner city of Victoria and is in the midst of Australia's cultural divergences. In fact, Victoria Street in Richmond is also called Little Saigon since it is the site of one too many Vietnamese businesses, most of which are in the food business (of course.) Chu The Pho Bo Ga is a great pho restaurant with branches both in Richmond and Footscray. If authenticity is the most important factor for you, then these are worthy places to visit. Here's a description of Richmond from visitvictoria.com.
Victoria Street is known as Little Saigon and is the heart of Melbourne's Vietnamese community. The long stretch of eateries, butchers, fishmongers and grocers starts at Hoddle Street and extends to the Yarra River in Abbotsford. Don't expect white linen tablecloths and hovering waiters - Victoria Street is about the hustle and bustle of fast, fresh and exceptional Asian food at a bargain price.
Ah... take me there now.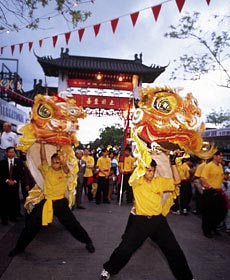 Moon Festival in Cabramatta, Sydney.
Photos courtesy visitnsw.com
Other concentration of pho shops can be found mainly in Sydney in New South Wales, of course Melbourne in Victoria, and Brisbane in Queensland. Websites like Eatability.com.au and bestrestaurants.com.au have good restaurant listings to find pho in Australia. I prefer Eatability.com.au because it has easier navigation so you can find your pho faster. Yeah! Here's a sample link to find Vietnamese restaurants in Sydney.
Perhaps one of the more exciting developments regarding finding pho in Australia is the news that Ly Quy Trung, the owner of the popular pho restaurant chain Pho 24, has announced that his company will be expanding in the Asia-Pacific region soon. One of the countries his company is targeting is none other than Australia. Now I don't expect Pho 24 restaurants to put any existing pho restaurateur out of business. But the Australian expansion is a strong indication that pho is growing strong here, and if U.S. pho "industry" is any indication, there should be room for all to enjoy - for those who cook and serve, and for those who dine and consume. May the best pho survive!
John Street, Cabramatta, NSW, Australia.

View Larger Map