Updated 06-23-13. It's been a while since my last post. I've been working on a project. A secret project.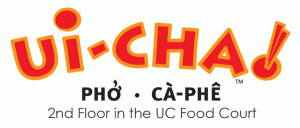 I think it's time to get Vietnamese pho on university campuses! Yes that's the little secret project I've been working on. Staying true to what I want LovingPho.com to be, which is a reliable informational resource for Vietnamese pho noodle, I and a partner successfully opened a Loving Pho inspired Ui-Cha! Phở and Cà-Phê since Fall of 2011. You see, Ui-Cha! Phở is the my pilot pho restaurant on a university campus. For those who know the University of Montana in Missoula, Ui-Cha! Pho and Ca-Phe is located in the University Center (UC) on the second floor.
Last year, I started a couple of polls related this subject; they are both still live and you can still vote. I've actually had a couple of desires. One was the urge to have a pho restaurant that stays true to the spirit of Lovingpho.com; the other was the need, yes a need, to serve Vietnamese pho to students on campuses across North America. Not just because many believe pho is the best hangover cure ;), but because pho is the third on the list of College Food Trends in 2010 as published by Sodexo, one of the largest food services and facilities management companies in the world.
What the Pho Polls Show
Back in April 2011 I started this poll out of curiosity. You can see the results by clicking the View Results link.

Loading ...
I was optimistic that I would probably get a lot support. The right thing to do, in my mind, is to stay true to what I "preach" about what's right and what's wrong with pho restaurants in general, but concurrently if I were to run a pho restaurant myself, how would I do it. How would I bring a lot or all of the flavors of LovingPho.com to a real pho restaurant. I have written and talked a lot about what pho is and how it should be served and enjoyed. The challenge was on, and the poll results gave me a huge boost in both the confidence and excitement departments.
Then a little idea began to sprout (pun intended) and I started another poll, shown below here.

Loading ...
So the stage is set for Ui-Cha! Pho and Ca-Phe.
Vietnamese Pho on Campus
With our humble beginning in 2009, we started parent company Pho Destiny from the Bay Area. I wanted to introduce a Vietnamese pho restaurant in a new, fresh light to all corners of North America to compete with many already established pho restaurants. Vietnamese pho has definitely gained popularity in metropolitan areas where large Vietnamese communities have developed into Little Saigons. While this trend will continue to take this hearty soup noodle dish called Vietnamese pho into many more medium and smaller cities, I wanted to take pho in several totally different paths.
Among the many concepts coming out of Pho Destiny is Ui-Cha! Phở and Cà-Phê, born to serve the campus population of universities and colleges. Amazingly, as destiny would have it, the University of Montana, Missoula has embraced our concept, and suddenly became the birthplace of Ui-Cha! Phở.
We wanted Ui-Cha! Pho restaurant to be more than a typical Vietnamese restaurant serving just typical Vietnamese foods. Ui-Cha! is about presenting Vietnamese food in a way that will promote the goodness, authenticity, preparation, enjoyment and healthiness of Vietnamese pho and other dishes. As we bring our pho concept to the campuses of North American universities, Ui-Cha! employs modern technologies and methods to maintain Vietnamese pho authenticity. At the same time, we take full advantage of local resources available to us, from local and student talents in our production, service and marketing, to local farmers and locally grown ingredients used in many of our menu items.
In a way, we are really turning Vietnamese pho restaurant inside out. All Ui-Cha! Pho ingredient selections are displayed at the food service counter, allowing guests to choose their own ingredients, and witness hot bowls of pho created before their eyes. This is a unique experience not available at commercial restaurants, where pho has been traditionally served from kitchen to table by the restaurant wait staff.
Ui-Cha! Pho features a modern, clean and efficient kitchen and work environment. The ability of guests to customize their own pho orders is a unique, fun, and educational experience. We hope these key features, together with our goal of providing fresh, healthy, consistent food quality at affordable prices, will contributes to making Ui-Cha! Pho a popular and healthy dining choice for the campus community to experience Vietnam's beloved and famous noodle dish.
We hope to bring Ui-Cha! to your campus soon. If you can't wait that long or otherwise would like to help bring Ui-Cha! to your campus, then you can use the Campus Pho Campaign Contact Form page to get things going. Or share your comment below. Oh and don't forget to take the polls above.