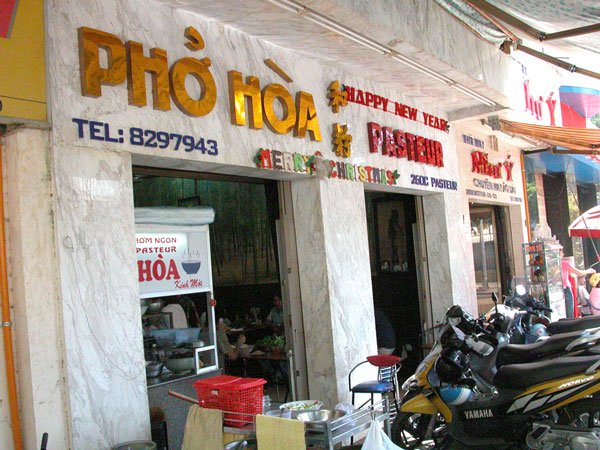 Updated 3/5/22. Pho Hoa Pasteur holds a special place in my early teen heart and memory. Not just because of its hearty bowls of pho. No. Not the Pho Hoa Pasteur you're thinking about. I'm talking about the original place in Saigon.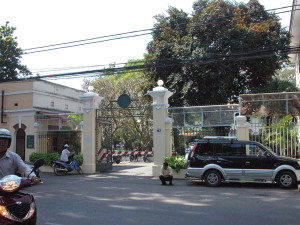 I don't remember frequenting Pho Pasteur in Saigon all that much before leaving the country in 1975 - Pho Pasteur as I recall it, not Pho Hoa Pasteur. More importantly this place (and this street Pasteur) is special to me because I bicycled along this street everyday going to school in the early 70's.
Located at 260C Pasteur, Pho Hoa Pasteur has changed quite a bit I'm sure, but I don't remember exactly what it was like. When you're in an environment for thousands of times, you tend to ignore it. But then I was always concentrating on getting to school on time. We take things for granted I guess. Any way when coming back in January 2008, I had to stop by and have a bowl of pho here. Afterward we went outside and I took this picture of the Pasteur Institute across the street. Pho Hoa Pasteur is the original place.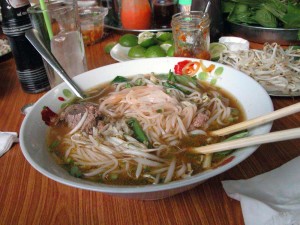 I'm postulating this is why many restaurants in the US (and I'm sure elsewhere outside of Vietnam as well) are named some variations of Pho Hoa Pasteur. The place was that well-known and popular.
Updated: The link to SaigonToday.net article below is no longer active. Read about the recent vandalism at Pho Hoa Pasteur. For the hard-core (or the curious) fans who want to read more about Pho Hoa Pasteur, the Pasteur Institute across the street from it, and the history behind it, click over to read about "Street of Saigon: Pasteur", courtesy of SaigonToday.net.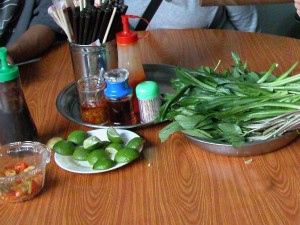 Here's what I had and my ratings:
Jan 16, 2008
Pho tai, chin (beef: rare, well-done brisket), large size.
Pho noodle: (4/5)
Soup stock: (4/5)
Meats: (4/5)
Garnishes*: freshness (5/5)
Garnishes: extra points for fresh ngo gai (5/5) - Ngo gai galore!
Extra points: 3 for clean dining area, comfortable ambience, authentically friendly service.
Total points: 26
* No points for expected garnishes of sprouts, Thai basil, lime and chiles.