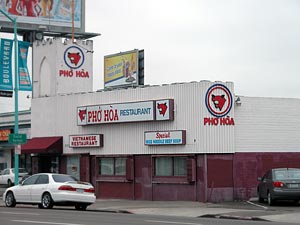 It's been a long time since I last visited Pho Hoa on El Cajon Blvd. This place has been here forever (well maybe at least to the mid 1980's as I remember), and its age can be seen in the exterior condition of the building. But don't let the look deceive you, because inside you'll find one of the best pho around.
Pho Hoa is located on El Cajon Blvd. in the City Heights neighborhood. It's smack in the middle of a concentration of Viet businesses along what is called 'the Boulevard', in between Euclid Avenue and 47th Street. In all directions are Viet businesses such as travel services, food markets, hair salons, food-to-go shops, even a Pho King. But Pho Hoa stands all by itself in its own red and white building with the red cow logo laughing proudly about its great tasting pho.
It is noted that this is not the San Jose-based Pho Hoa franchise that is appearing in many locations (but none yet in San Diego, probably because there are 2 non-franchised Pho Hoa here already.) Read my article on Pho Hoa Franchise.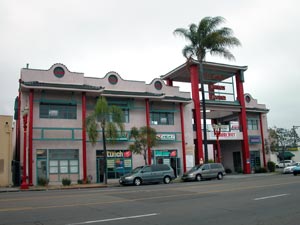 Right across from it is the newer and colorful Asia Business Center building sitting among the older architecture that is along El Cajon Blvd. Consisting mostly of offices for professional services like attorney's offices, tax return services and the likes, the building sticks out clearly and actually  serves as a good marker to find Pho Hoa. Once you find the Asia Business Center, Pho Hoa is right across the street.
Inside Pho Hoa is quite roomy which you wouldn't have guessed looking at the outside. The dining area is a little dark for lack of windows, but hey this is after all El Cajon Blvd. On the other hand the service is attentive and very fast. I ordered my usual pho tai, chin, sach (beef: rare, well-done brisket, tripe) plus a bottle of Heineken.
There's not much to say about pho at pho Hoa except that it's great. I would have liked a little more culantro, but what was served was enough for typical pho diners. Here are the points.
May 31, 2009
Pho bo (beef: rare, well-done brisket, tripe).
Pho noodle: (5/5)
Soup stock: (5/5)
Meats: (5/5)
Garnishes*: freshness (5/5)
Garnishes: extra point for fresh ngo gai (2/5)
Price: Baseline ($5-7), no extra points or deductions.
Extra points: +2 for cleanliness, considering the establishment's age.
Total points: 24 out of possible 25.
* No points for expected garnishes of sprouts, Thai basil, lime and chiles.
Pho Hoa Vietnamese Restaurant
4717 El Cajon Blvd. (between 47th St & Euclid Ave)
San Diego, CA 92115
(619) 283-6431