Dropped by Pho Ca Dao in Mira Mesa (San Diego suburb, CA)  the other evening for a bowl of pho tai, chin, sach (beef: rare, well-done brisket, tripe). What else would I order right? Anyway this was my third or fourth time... I'm not sure, but I enjoy coming back to eat.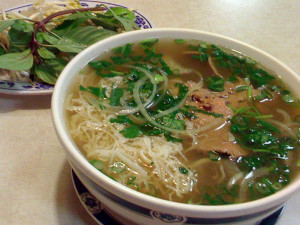 Their slogan is "Real Pho, Real Fast, Real Service". I like it because it's true.
Let's talk about Ca Dao. "Ca dao" are really Vietnamese folk songs or poems that are popular reminders of who the Vietnamese people are and where we came from. To borrow from honque.com, here is an explanation/description of ca dao:
The term ca dao (derived from a line in the Wei Wind section of the classic Chinese folk poetry anthology, Shih-Ching, or Books of Odes) can be loosely translated as "unaccompanied songs." Ca: to sing; dao: to sing without music. The ca dao poems, transmitted orally, sustained and nourished the Vietnamese language through its centuries of domination and influence by China. Up until the beginning of the 19th century, the literate class--a distinct minority, preferred to compose their poems, with few exceptions, in Classical Chinese, which was inaccessible to the masses. A native script, Chu Nom, was first developed in the 13th century but never reached full flowering until the beginning of the 19th century, when Nguyen Du composed his masterpiece, the incomparable 3,254 lines poem, "Kim Van Kieu." The story of a prostitute, it pilfered its plot line from an obscure 17th century Chinese novel of the same name.
Additional discussion about ca dao can be found on Wikipedia. Needless to say, the 2 words Pho and ca dao have no real relationship. But Pho Ca Dao together as a name gives a very nice, homey feeling of a pleasant, safe, comfortable and cozy place to eat authentic Vietnamese pho. It would really be neat if ca dao are actually played in the restaurant. Maybe not constantly, but occasionally would be good.
But let's get back to pho. It was early evening it was fairly empty when I came in, but did start to get crowded when I left. The pho was reliable, much above average, and always enjoyable. See my ratings below. After several visits I guess I can make a general call on clientele mix of Pho Ca Dao: about even 1/3 Vietnamese, 1/3 Filipinos, and 1/3 Caucasians. The Filipino connection is not a surprise as there are many Filipino families living in the Mira Mesa area.
Here's what I had and my ratings: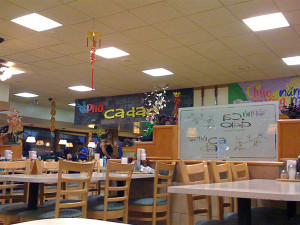 Jan 22, 2009
Pho tai, chin, sach (beef: rare, well-done brisket, tripe) and Thai tea without boba.
Pho noodle: (4/5)
Soup stock: (4/5)
Meats: (5/5)
Garnishes*: freshness (4/5)
Garnishes: extra points for fresh ngo gai (3/5)
Extra points: 3 for clean dining area, comfortable ambience, authentically friendly service.
Total points: 23
* No points for expected garnishes of sprouts, Thai basil, lime and chiles.
Some of my friends are not impressed with Pho Ca Dao, but I would recommend it.
Pho Ca Dao
8373 Mira Mesa Blvd
(between New Salem St & Reagan Rd)
San Diego, CA 92126
(858) 564-0917
www.phocadao.net