There is an update to this article at 
Pho 79 Revisited
.
---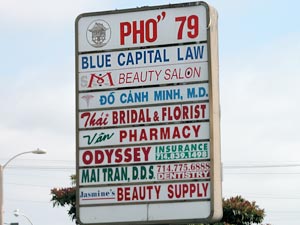 Updated 01-03-15. There are a number of Pho 79s within Little Saigon in Orange County CA, with many more in adjacent cities and even out of state. Pho 79 is a popular name since many Viet arrived in the U.S. in 1979, plus many restaurants opened in Little Saigon in 1979 as well. My first bowls of pho in Little Saigon were actually at this Pho 79. There were very few pho restaurants in existence back then, and those in business were always packed with Vietnamese slurping their pho like there was no tomorrow.
But I haven't been back here in at least 10 years! Can you imagine that? Not that I stopped eating pho. Far from it. Maybe because this particular place seems less convenient to get to than many newly open pho shops - it's tucked away behind a strip mall.
Maybe it looks too rundown and tired and old compared to the more hip looking places with shiny colors and lights. But I'm a marketing guy, and I should know that it's not always about the look on the outside. It's the content that matters.
So I decided to pay Pho 79 a visit. And I was not disappointed. If you want good pho at great price without the frills, don't overlook Pho 79. Its pho is very good. The meat tastes great as does most everything else in my bowl. The sprouts, basil and culantro are of peak freshness, while the broth and noodle itself are just right for me.
June 1, 2009
Pho bo (beef: rare, well-done brisket, tripe).
Pho noodle: (5/5)
Soup stock: (5/5)
Meats: (5/5)
Garnishes*: freshness (5/5)
Garnishes: extra point for fresh ngo gai (3/5)
Price: Baseline ($5-7), no extra points or deductions.
Extra points: +3 for cleanliness, considering the establishment's age.
Total points: 26 out of possible 25 (due to extra points).
* No points for expected garnishes of sprouts, Thai basil, lime and chiles.
Pho 79 (Little Saigon, Orange County, CA)
9941 Hazard Avenue, Garden Grove 92844
714-531-2490
SaveSave
SaveSave
SaveSave
SaveSave
SaveSave
SaveSave
SaveSave