Updated 04-25-10. This Pho Hoa is now closed, as far as I know, since the end of 2009.
Updated 03-16-22. Pho Hoa is a franchise serving pho dishes in various parts of the world. While I doubt if Pho Hoa offers anything more special than a good pho shop or restaurant, the company's main marketing and franchise theme focus is on the healthy nature of their pho.
Pho Hoa is a company centrally based in California, U.S.A. It now has locations scattered throughout the country as well as in Canada and various countries in Asia, such as Korea, the Philippines, Malaysia, and Singapore. Most locations are set up in areas with large Asian populations, offering an excellent rendition of global pho to a large customer base even in Montreal and New Orleans. Pho Hoa has come a long way from its humble beginnings in 1983, when the first Pho Hoa branch opened in San Jose. What used to be a small restaurant with a small kitchen and very few seats now offers franchising opportunities across the globe.
All the dishes served in the Pho Hoa franchises are carefully planned to ensure that each meal is a balanced meal for the customers, according to the company's website. Offering an extensive menu of various pho dishes, Pho Hoa can be the ideal pho franchise that promises great benefits to customers and to franchisers alike. The company is open to those interested in a Pho Hoa franchise, with a form already made available on the Pho Hoa website.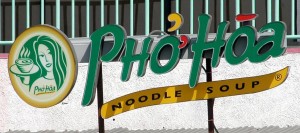 With a fairly decent pho recipe and the commitment to healthful cuisine, Pho Hoa has artfully positioned pho dishes as the top choices for health conscious eaters. To diners who are familiar with pho, however, Pho Hoa's pho is not necessarily any more healthy or special than their other favorite pho places. In fact to those who enjoy pho regularly, branding Pho Hoa's pho as healthy, low-calorie with the choicest of meat cuts, as proclaimed by Pho Hoa itself, may sound somewhat foreign and even forced. There may be many different pho recipes used by different chefs, but the end result should be about the same in terms of fat content and calorie count no matter where you go. I would say the only concern among regular pho eaters regarding their pho, next to the fact that if the pho tastes good to them or not, is that if a restaurant uses more or less MSG or monosodium glutamate in the broth. But I digress.
Reviewing Pho Hoa's menu reveals the many typical pho combination and permutation of ingredients together with other classic Vietnamese fare. Aside from the pho, Pho Hoa also offers an assortment of appetizers, rice plates, vermicelli bowls, and beverages to accompany them. So there's really nothing special there. But the fact that Pho Hoa clearly groups their pho menu into "For the Beginners," "Just the Regular," and "The Adventurer's Choice" tells me that Pho Hoa's marketing goal is to attract the uninitiated to try pho for the first time. There's nothing wrong with this and in fact it is almost an absolute requirement for a franchise to do this in order to continue to develop, expand and survive in new markets.
I never did a full review of Pho Hoa as a franchise with proper ratings and points on a bowl of pho, but did give a narrative review of one Pho Hoa restaurant in Little Saigon. You can read about it in this article "Vietnamese Pho: Franchised and Going Mainstream?" My friend Mason also just did a review of Pho Hoa Berkeley.
On a side note, Pho Hoa the franchise is not the same as a number of independently-owned Pho Hoa restaurants that still exist in many Viet communities in the U.S. Here's a photo of one of the non-franchised Pho Hoa in Linda Vista, San Diego CA.