Updated 04-18-19.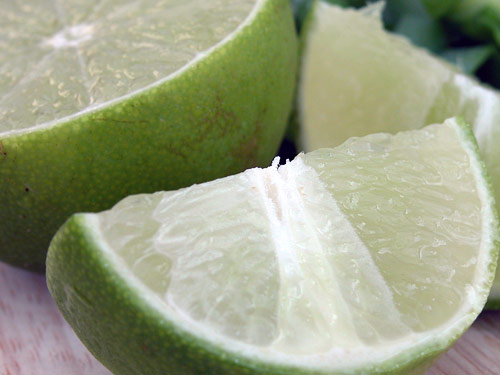 The first thing I do when served with a bowl of Vietnamese pho is to enjoy its fragrance steaming up out of the hot broth.
The second thing I do is to take a sip of that broth to taste its goodness in its most unspoiled state.
There are pho broths out there good enough for me not to have to enhance them with additional sauces or condiments.
Regardless of how good the broth is, though, I must have my squeeze of lime in my pho. To me the fresh tangy lemony flavor is an absolute must-have flavor in a bowl of pho bo or pho ga, no exception. But this is where I have a problem with how lime and pho come together.
Take a look of the following pho photos from typical search engine. You will find similar photos in many cookbooks and printed publications as well. What is common among these photos? Can you see a common no-no in almost all of them?
Yes, it's the piece of lime in the bowl, peel, sometime seeds and all! All brewing and cooking in the hot broth.
OK it's very simple:
You don't want to cook the lime peel and seeds in the hot broth. Yuck!
Do I use my fingers to snatch out the piece of lime and squeeze it to get the lime juice? Double yuck!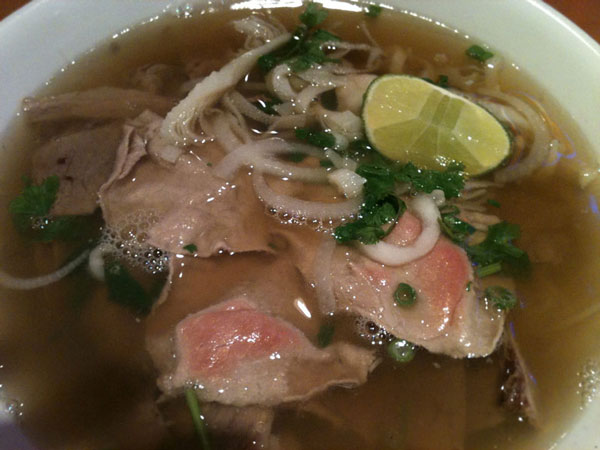 This post is not about judging the validity of recipes, ideas, ingredients or viewpoints of pho writers and bloggers on the sites above. And I'm not poking fun at photographers taking liberty and creative license with their culinary works. I respect all of that.
Instead this is actually about the presentation, and conveying the subject matter in the proper manner. If we want to share, educate and inform one another about Vietnamese Pho, then let's do it right. Providing good, accurate presentation of what pho is, is a very big part of this sharing, educating and informing. Pho veterans will like it, and pho newbies will appreciate it. We as publishers have at least some responsibilities here, right?
The bottom line: Creative photography or not, let's serve the lime where it belongs: as a side item of pho, as an option. This way a pho eater has a choice of using it or not. This is especially important to help pho newbies. People do get the first and best impression from images. So please present pho correctly.
Oh one more thing. Some of these photos show way too little amount of pho broth in the bowl. To properly serve a bowl of pho, you need to use plenty of broth to cook all ingredients within the bowl, and that means most everything should be submerged except for the garnishing for the finishing touch.
---
By the way, many pho zealots agree with me when it comes to the taste of lime in pho. Check this out, as of this writing, this LovingPho.com running poll indicates that lime is the top item to enhance your pho experience. If you haven't done so, take the poll and share with us your preference.
What's in your pho?
Culantro (15%, 406 Votes)
Thai basil (17%, 457 Votes)
Lime (18%, 497 Votes)
Bean sprouts (16%, 453 Votes)
Chiles (12%, 335 Votes)
Hot chili sauce (12%, 341 Votes)
Hoisin sauce for pho (9%, 258 Votes)
Total Voters: 606

Loading ...
SaveSave