Updated 03-16-22. I was in Little Saigon a week after Vietnamese New Year Tet (which was on Jan 26, 2009), so we decided to stop by Pho Vie II on Westminster Avenue. Everything sort of fell together: my companions had never been here before, they were craving for some good pho ga (chicken pho), and the price was half off. Actually it's always been half off.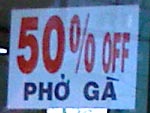 The half off pho ga deal has been on for a while. And Pho Vie II is not the only restaurant running this deal. There are a few others doing the same promotion on pho ga. I think it's good marketing. Pho ga is easy to make, so restaurants can still make profits; pho ga (with free-range chicken) is always better than your regular frozen variety, so the customers wins with tastier food. Those big red "1/2 OFF" signs are magnets for traffic, and the half-off pho ga bandwagon is going to continue I think.
Back to Pho Vie II. I ordered my usual pho tai chin sach (beef pho: rare, well-done brisket, tripe), while my companions had the special deal that everyone else was having, pho ga. Here is what pho ga should be. Nice hot bowl of pho noodle with very tasty chicken pho broth, free-range chicken on the side (she chose dark meat), and mouthwatering dipping fish sauce with ginger. By the way if you never had pho ga with choice of side chicken meat (light or dark) and ginger fish sauce for dipping, you have not experienced pho ga.
On this day there was no line in front of the restaurant. Because of Pho Vie II's consistent quality, my rating is similar to (but not exactly the same as) my previous Pho Vie II excursion.
Jan 31, 2009
Pho tai, chin, sach (beef: rare, well-done brisket, tripe) with vinegared-onion on the side. Pho ga with dark meat.
Pho noodle: (5/5)
Soup stock: (4/5)
Meats: (5/5)
Garnishes*: freshness (4/5)
Garnishes: extra point for fresh ngo gai (4/5)
Price: Baseline ($5-6), no extra points or deductions.
Extra points: 2 for interesting restaurant look/dining room area and enjoyable ambience.
Total points: 24 out of possible 35.
* No points for expected garnishes of sprouts, Thai basil, lime and chiles.
Pho Vie II
10120 Westminster Ave
Garden Grove, CA 92843
(714) 539-5224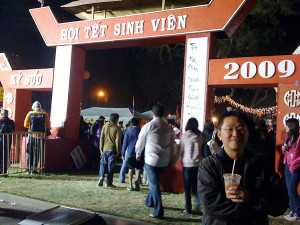 Here's a shot of me about to enter the UVSA Tet Festival 2009 "Spring of Hope" later that evening at Garden Grove Park. It was right by the grounds of the Bolsa Grande High School. There were tons of people young and old, games, rides, foods, live performances, and cheap CDs and DVDs you can buy, plus of course exhibits and promotions. The words "Hoi Tet Sinh Vien" literally translate to "new year festival by student association", as the event was organized by the Union of Vietnamese Student Associations of Southern California, UVSA.
I remember in the formative days of Vietnamese student associations in Southern California (mid to late 1980's), it was our dreams to stage events like this for the community especially at Tet celebrations. Higher education Viet students have always been considered the future of the Viet country and people, so it was natural for college and university students to take the lead and responsibility.
I was with the group that started the San Diego State University Vietnamese Student Association (VSA). We took part in collaborations with other student associations to organize community events like this, but it was always difficult being pioneers, as they say. Though we didn't quite make major successes during my time there, we did set a foundation for all the VSAs today. So I'm happy to see continued progress like this year's Tet festival. By the way, "Ky Suu" on the left side of the gate is the name of the coming cycle of the buffalo, as the new year is the water buffalo, or ox as the Chinese call it. Read more about Chinese and Vietnamese zodiac.
Just an interesting snippet to end a pho blog. Until next time.
Share your Pho Vie II experience with us by dropping a comment below. Or if you attended the Tet festival, did you enjoy it? What were your favorite things there? Ours were the "affordable" CDs and DVDs, the games (we won a cute little stuffed rabbit), and checking out the numerous food varieties and stalls!