Updated 03-16-22. If people from all across the world are crazy about Vietnamese pho, that really comes as no surprise. Vietnamese pho, or simply pho for short, is a deceptively uncomplicated dish with very complex flavors and exotic textures. Its heartiness fills the stomach and its heat warms the soul. It is one of the best comfort food ever created.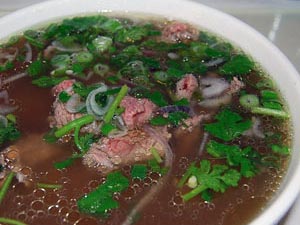 Although pho is a classic example of Vietnamese cuisine, its popularity is not limited to Vietnam alone. Since the Vietnamese refugees left Vietnam in 1975, Vietnamese restaurants all across the globe offer their own variations of pho, cooked using their very own pho recipes. Even non-Vietnamese people have strived to learn how to make pho in their own kitchens because it is such a lovely dish to eat any time of the day and is not that hard to make. That's right it's not that hard to make, but you are required to put in the time if you want to do it right.
As many pho lovers already know, good pho depends first and foremost on the broth, which is what makes a difference between bad homemade pho and good pho, restaurant or otherwise. If you know how to make good pho broth, then everything else is just a matter of getting the pho ingredients from the markets.
The way pho is made largely varies on the skill and dedication of the person cooking it. Because of this, it is hardly a surprise that there are so many pho recipes to be found on the Web. Pho is versatile enough to lend itself to different variations but you have to know where the rule can be broken, and where it cannot.
Here are ten pho recipes you can try your hands at. Be advised that when it comes to making pho, or many other dishes for that matter, experience is key because you need to know if what you just made tastes right or not. Furthermore, this is not a top ten list, and the recipes are not presented in any order. I would consider a number of these "quick broth" recipes as home remedies, something you can do to tie you over until you can get the next real pho fix.
One thing is for sure though: if you really want to try and make pho yourself, then select a recipe from a Vietnamese chef, preferably a respected one. Except that there's a certain French chef that knows a lot more about Vietnamese pho than many Vietnamese. I'll share this tip at the end of the article.
The So-Sos and the Funnies
Pho Bo Soup. About.com is one of the most authoritative and reliable sources on the Internet, and its guide to Chinese cuisine, Rhonda Parkinson, featured a recipe of the beef pho. The recipe is not hers, however, but is by the author of The Vietnamese Cookbook, Diana My Tran. This pho recipe is good because it has all the ingredients and condiments necessary in making the classic beef pho.
Hanoi Beef Noodle Soup. This pho recipe from the Food Network (page no longer active) is aptly Americanized in that one does not have to boil beef bone marrow to come up with the broth. Just buy cans of ready-made beef broth from the supermarket to make the soup. It also skips on the onions and the culantro, and requires boiling the beef and the bean sprouts instead of letting them cook in the soup while served.
Vietnamese pho. This pho recipe in the UKTV website by Jason Atherton is another easy-to-cook version of pho. It only requires putting beef broth cubes, ginger, peppercorn, cinnamon, star anise, and cardamom into a pot of boiling water. It also makes use of mint instead of cilantro, culantro and basil.
South Vietnamese Style Pho. This pho recipe from All Recipes makes the process of cooking pho look arduous, but it's what's required. Boiling the beef bones alone for the broth requires at least six hours, but as the author said, the longer the beef bones are boiled, the richer the flavor. The recipe makes use of radishes and sugar. The author also recommended serving the toppings separately from the noodles itself to suit the diner's preferences.
Vietnamese Beef Pho. This version of the Vietnamese beef pho from the Steamy Kitchen blog is the blogger's take on Andrea Nguyen's classic recipe from Into the Vietnamese Kitchen. Beyond the fact that the recipe sounds as authentic as pho recipes go, it is also an entertaining read.
Vietnamese Pho Noodles with Beef. This pho recipe featured in Epicurious is one straight from Mai Pham's cookbook Pleasures of the Vietnamese Table. This is a classic pho recipe, although with the broth boiling process reduced to two hours instead of three or four.
Chicken Pho (Pho ga). All of the recipes named here so far use beef as the main ingredient, but this pho recipe by Tien Dinh of Pho in Las Vegas makes use of chicken. This version sounds like a shortcut to authentic pho, but it does boast of less fat and less time to prepare – less than 15 minutes.
Chicken Pho (Pho ga). This pho recipe comes straight from the blog of Andrea Nguyen, author of Into the Vietnamese Kitchen. It is still classic pho, except that instead of boiling beef bones to make the broth, the bony parts of the chicken are used instead. The chicken flesh is also cooked separately, instead of being cooked in the broth while the bowl is served, as it would have been if it was beef pho.
Vegetarian Pho Broth. This interesting pho recipe from SparkPeople makes use of tofu instead of meat or chicken. It is admittedly not an authentic pho recipe, and the flavor comes mostly from the boiled vegetables, the lime and the spices.
Pho with Shrimp. This is another semi-vegetarian adaptation of pho from SparkPeople. The broth is mostly flavored with the usual pho spices and with soy sauce. The shrimp is either boiled or stir-fried in olive oil before it is served with the noodles. I think this recipe is more of what we call "hu tieu", a Southern Vietnamese cousin of pho, which uses the same noodle but with meats other than beef or chicken.
The Pros
Now that you've read all these interesting recipes, what would I recommend? Here are my picks and they're actually not on the list above (ha ha, sorry):
In summary, beef is the traditional main ingredient of pho, but pho is also adaptive so it can be made in many different ways. No matter which pho recipe you choose, pho is a great meal to make, share and enjoy. Now if you're still confused about what pho is, head over and check out the post titled "What is Vietnamese Pho: Think You Know? Think Again." Enjoy.
A final note:: if you'd rather not deal with buying the bones and oxtails and simmering them for hours as called for by many recipes mentioned above, you can opt for making the broth the easier way. Just substitute the steps to make the broth with that described in this article "Quick Beef Pho Recipe with Quoc Viet Foods' Pho Soup Base," and you'll have a steaming pho bowl on your dining table much sooner.