Updated 10-27-10.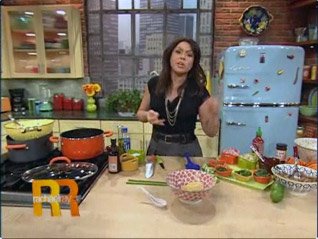 Rant alert! Here's the latest offender: Rachael Ray and the Phunky BBQ Pho with Pork and its pho recipe.
One of my reasons for creating this Vietnamese pho blog LovingPho.com is to help tell the real and authentic story of Vietnamese Pho to the blogosphere. I saw so much inaccurate renditions of pho online that I felt the need to present the noodle dish in a more correct fashion. I try to stay true to what pho is, and where I falter, I depend on the wiser others to help point me back to the facts. Pho itself is good enough to stand on its own so there's no need to further embellish it.
The dish/program name itself, Phunky BBQ Pho with Pork, is enough to send chills up my spine. What's really annoying to me is the casualness that these inaccuracies are presented by Rachael Ray and her program. Andrea Nguyen herself was distrurbed enough to write a commentary about it. You can follow the link to read her "How funky is Rachael Ray's Phunky Pho?" Here are a few of her key points which I totally agree with:
Pho is not Thai. It's Vietnamese. Maybe they were thinking about Pad Thai? But that's stir-fry. Anyway I don't get it.
Pork. Enough said for me. Pork really has no place in pho. It's great in hủ tiếu though.
Lack of fish sauce. It's one of the key ingredients, can't do without it.
Angel hair pasta. Ugh, this is ugly! It should be bánh phở rice noodles. Maybe Ms. Ray tried to reach the widest audience possible, where there is no banh pho available?
The whole program leaves a bad taste in my mouth. Beside Andrea's points above, here my other peeves:
The show, and Rachael Ray herself, not showed total disrespect to Vietnamese (and Thai) foods, but also to their own audience's intelligence, though I could be wrong here since there are 578 Facebook Likes for the recipe as of the date of this post. Amazing!
In this 21st century global economy and awareness, there is still lack of knowledge and education in mass media production. What did it take to produce a Rachael Ray episode, how many people were involved in such production? I don't care if the program was entertainment or educational, and we aren't really talking about perfection here. However, a little accuracy on the basics would be nice.
Makes me wonder how much other craps are out there... I know, I know. Dumb question.
According to Merriam-Webster Thesaurus, synonyms for funky include: bizarre, bizarro, cranky, crazy, curious, eccentric, erratic, far-out, funky, funny, kinky, kooky (also kookie), offbeat, off-kilter, off-the-wall, outlandish, out-of-the-way, outré, peculiar, quaint, queer, queerish, quirky, remarkable, rum [chiefly British], screwy, spaced-out, strange, wacky (also whacky), way-out, weird, weirdo, wild. True.
So what do you think about this episode? Do you agree or not agree with points discussed above? Please take the poll or leave a comment.

Loading ...