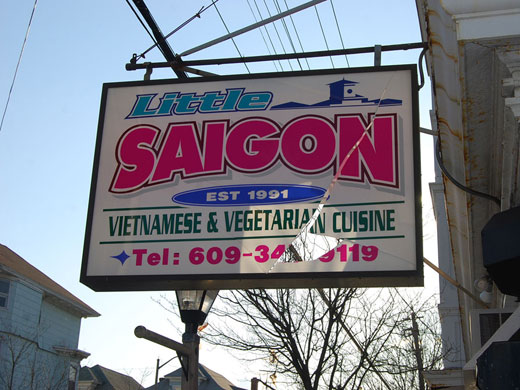 Surprised? I sure am. I didn't realize the best Pho I've ever had would be in Atlantic City, New Jersey. I'm not kidding. This place was excellent. Don't believe me? Ask Vanessa as she generally doesn't enjoy Viet cuisine, but even she raved about how great her meal was, so you know it has to be that good!
When we first arrived at Little Saigon, aside from the owner working his laptop on the far table, we were the only ones in the place. I love the hole-in-the-wall Viet restaurants. They're much more cozy and hospitable. Owner seated us immediately and we couldn't help notice the numerous awards on the wall for their outstanding food.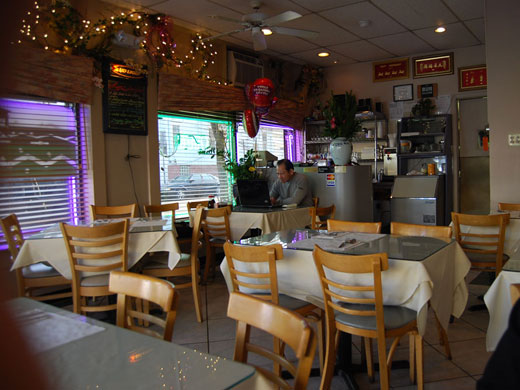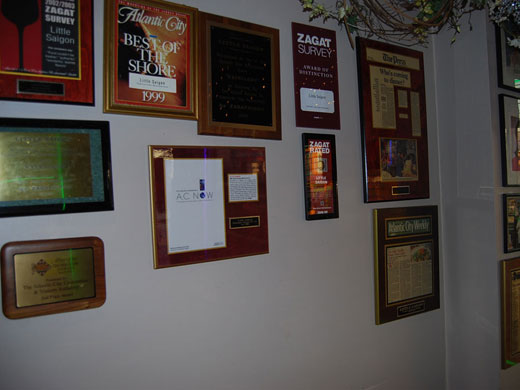 Another thing I can't believe is my willingness to venture outside the realm of Pho Ga. Maybe I needed the right setting to do so, so I pulled the trigger on the Pho Tai, something I had yet to experience. What an amazing experience indeed!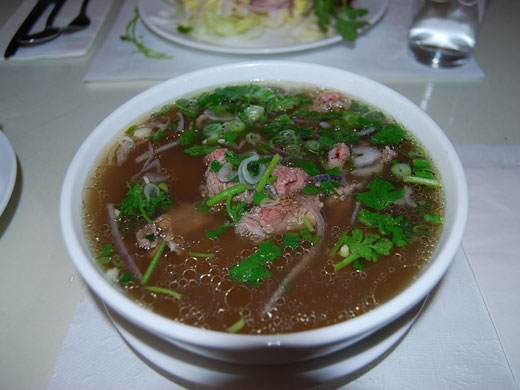 The first thing I noticed about the Pho Tai was the broth. It looked very dark, rich and full of flavor. The garnishes were also extremely fresh. Always look to the sprouts for freshness level as they won't lie. If they're pure white and firm, you can bank on freshness.
As I took my first bite, the flavor of the broth danced with my tastebuds like two strangers doing the tango. Amazing! It WAS rich and full of flavor. I can't put my finger on why the broth was so unique. Could they have used extra oil? Was there butter in the mix? Who knows, but indeed this was the best broth I've ever had!
Since this was my first experience with beef Pho, I don't really have anything to compare it too. All I can say is the meat was medium-rare and tasted great. Maybe I'm a converted man now and will start ordering this more often. I just hope having the best as my first won't corrupt my taste for Pho Tai at other restaurants.
The owner came over to check on us and asked "Do you eat a lot of Vietnamese soups? You look like you know what you're doing by the way you eat." You could say this added to my already big ego. Hahahaha. Really fun stuff.
After we finished eating, we said our farewells, paid our compliments and hit the road.
Here's the scoop:
February 16th, 2009
Pho Tai
Pho noodle: (5/5)
Soup stock: (5/5)
Meats: (5/5)
Garnishes* freshness: (5/5)
Price: Baseline ($5-6), no extra points or deductions
Extra Points: 4 for outstanding Pho, freshness, environment, staff
Total Points: 24
* No points for expected garnishes of sprouts, Thai basil, lime and chiles.
Little Saigon
2801 Arctic Ave
Atlantic City, NJ 08401
(609) 347-9119