Updated 08-18-14. Pho Bolsa no longer exists at this location. Pho Cali opens here since early 2014.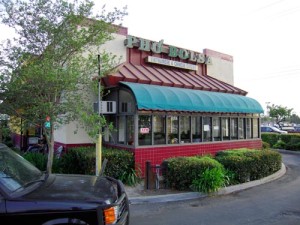 Decided to pay a visit to Pho Bolsa this past weekend. My wife was craving for their pho ga (chicken pho) so we went there after running a few errands.
There are many different Pho Bolsas. This Pho Bolsa is on Brookhurst, just north of the corner of Brookhurst and Westminster in Little Saigon. The place has been at the same spot forever and has one of the best pho ga anywhere. It used be a very popular pho shop with many clients crowding the place at any hour of the day. But since the mushrooming of pho restaurants and 50% off pho ga around the area, it looks like Pho Bolsa is losing some customers.

I have other theories as well. For me Pho Bolsa has very good pho ga, probably second to none, and decent pho tai, chin, sach (beef: rare, well-done brisket, tripe) which I always have. However the place is never kept as clean as it could be. Now I'm not one who readily complains about cleanliness or expresses concerns about sanitary conditions of a pho restaurant, but I do want to take an issue here. The floor has always felt greasy. At least at one time I've seen the owner playing with her dog pet on her arms while working behind the counter. Granted she did not directly serve pho to the customers' tables, but working behind the counters definitely included taking money and giving changes and preparing beverages among other things. Not something I am ever comfortable with. I've come here on and off in the last 10+ years so I'll be back again, but maybe not as often as I'd like.
But on to the pho. My wife ordered her favorite pho ga with white meat, heart, gizzard, and liver. There were unlaid eggs as well. I had my trusty pho tai, chin, sach (beef: rare, well-done brisket, tripe). Both were good as expected, but the garnishes were on the wilted side. The free-range chicken were delicious, just right with the right level of tenderness and chewiness. Dip it in the ginger fish sauce and you're in pho ga heaven. For me the beef tai, chin sach were nothing to complain about, except that I would have liked a little more tripe.
May 3, 2009
Pho bo (beef: rare, well-done brisket, tripe). Pho ga with white meat on side.
Pho noodle: (5/5)
Soup stock: (4/5)
Meats: (4/5)
Garnishes*: freshness (3/5)
Garnishes: extra point for fresh ngo gai (1/5)
Price: Baseline ($5-6), no extra points or deductions.
Extra points: -2 for less than acceptable cleanliness.
Total points: 15 out of possible 35.
* No points for expected garnishes of sprouts, Thai basil, lime and chiles.
Pho Bolsa
13912 Brookhurst St.
Garden Grove, CA, 92843
(714) 530-1143

View Larger Map