Pho Broth: The Soul of Vietnamese Pho
Updated 01-07-19. There are three elements that make up a bowl of Vietnamese pho: the broth, the rice noodles and the toppings (meat, garnishes, etc.)
If you are a pho lover, you may be a fan of the noodles or of the way the meat, herbs and spices play together in your mouth as you slurp your pho to the last drop. Regardless, there's no denying that the pho broth is the most important element of Vietnamese pho. Pho broth is the soul of the dish. It is what makes the dish Vietnamese pho.
It's not a bowl of pho until the broth goes in.
Pho note: This article on Pho Broth is both a how to make pho broth and a philosophical look at the meaning of the broth in pho. If you are looking for the nuts and bolts of making pho, go directly to the latest Beef Pho Recipe infographic, or check out these 2 articles: Top Pho Bo and Pho Ga Recipes You Must Try Yourself and Quick Beef Pho Recipe with Quoc Viet Foods' Pho Soup Base.
Giving Meaning to the Soul of Pho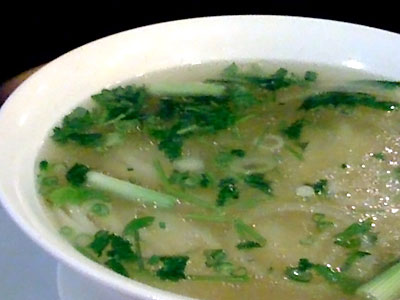 Can you imagine Vietnamese pho without its broth? It is probably impossible to do so. You may try to cook up all kinds of soups, pour it in the bowl and try to call it pho. You may resort to be creative with different meats and adding new herbs and garnishing to the mix, but it's just not pho. The pho broth is what gives the soup its distinct character. There's not necessarily only one way to make pho broth, but a good pho broth must follow certain rules and standards.
In fact, the key to a successful bowl of pho is the creation of a good pho broth. Pho lovers judge the bowl of pho served to them in a restaurant by sipping the broth first without putting in any seasoning or garnishing.
I see many people (mostly non-Viet and younger Viet generation) dumping in sriracha and/or hoisin sauce into their pho as the bowls arrive at the table. My question is, don't they wonder how the broth tastes? Is it good or is it not good pho broth? If it's not good pho broth then maybe they should try a better place.
But I digress. If there's any doubt about the quality of a bowl of pho, just take a sip of the broth to find out. If the pho broth is good, we feel immediately at home; the familiar, the warm, the good, the satisfying. But if the broth is not up to expectation, the pho eating experience becomes labored, beside the fact that one is wasting the time and money with this darn bowl of pho.
You can be forgiven for serving undercooked or overcooked banh pho (the pho noodle). You can be forgiven for not having all the right meat types or garnishing. But mess up the pho broth and your pho is ruined. Conversely, serving a great pho broth will make up for your other shortcomings many times over. There is no one perfect technique for making pho broth, but with practice and attention to to basic techniques, one can create a very good broth, with the right pho taste.
How to Make Pho Broth
There is no single perfect technique for creating good pho broth.
Many Vietnamese say that the best pho you will ever taste is the one cooked by your own mother, grandmother or other matriarch of the family. Such person would have very strong preference of how good pho broth is made. These ideas and knowledge, in turn, are handed down from generation to generation. I can tell you, this is more of a myth than fact, but will be the subject of a different post.
For now, let's move on to making a good pho broth.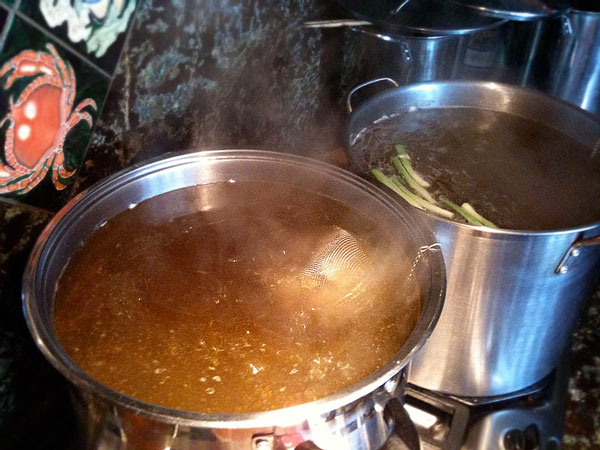 Almost all pho recipes will have many common elements between them, from the ingredients that go into the broth to the length of time required in making it. Vietnamese culinary experts Andrea Nguyen's and Mai Pham's beef pho recipes call for the following ingredients:
Yellow onions
Ginger
Marrow-rich beef bones and beef knuckle bones
Additional beef chunks
Star anise
Cloves
Salt
Fish sauce
Yellow rock sugar
Here's a generic process. Many recipes call for preparation using two stockpots of boiling water. The beef bones and chunks are parboiled in one pot in high heat for up to five minutes. This is to remove all the impurities on the outside of the beef. Andrea Nguyen recommends rinsing the bones in warm water before being transferred into the second stockpot, while Mai Pham says that it is fine to just transfer the bones and the chunks without rinsing. If you have room for 2 large pots, then use 2 pots; it will save you a lot of time while keeping your stock pure. But if you can use only one pot, then it will work too.
In any case, the second stockpot is kept at a simmer for an hour and a half, with any scum rising to the top skimmed out regularly. The spices are then added, either as they are or wrapped in cheesecloth. Before they are put into the broth, the onions and the ginger need to be charred in open flame. Mai Pham recommends toasting the star anise and the cloves lightly in a dry pan before they are put into the pot. Again techniques vary, but either roasting or charring will help release much more of spices'  fragrance.
After the hour and a half has passed, the boneless beef chunks are removed. The remaining broth is allowed to simmer for another hour and a half or so. The pho broth is then strained and seasoned with fish sauce, salt and rock sugar. At this point, the pho broth should look clear and free from impurities. It is perfectly acceptable for it to taste strong and even salty at this point as well because the taste will be toned down once the broth is poured over the unseasoned rice noodles and meat.
The procedure described above is the most generally accepted way of cooking pho broth. But no two bowls of pho made from two separate kitchens ever taste the same, and techniques on how to make the broth vary from kitchen to kitchen. Some cooks, for instance, do not put fish sauce in the broth but instead leave it up to the guest to season it as he or she pleases. Some cooks also skip on adding beef chunks into the simmering broth and rely solely on the flavor of the dissolved marrow.
Note:
You should never let water evaporate completely to dry-out condition. If your pot dries out after a few hours of "simmering" then you're probably boiling it the whole time, or don't have enough water to begin with. You should be keeping an eye on the simmering and skimming the scum as needed. So just turn down the heat to have just a light rolling action in the liquid.
Most recipes should specify a yield amount, such as yield = 3 gallons. This means that at the end (or sometime during simmering as needed), you'll need to add water to bring up to the yield amount. If this is the first time you make pho broth, then I suggest to follow the recipe first and see how it comes out, then make adjustments to fit your taste.
Time Is Essential in Cooking Pho Broth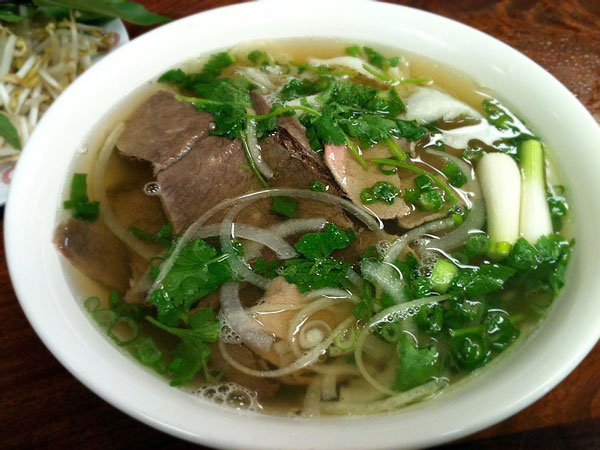 Perhaps the one thing that turns people off from making their own pho at home is the amount of time it takes to create the pho broth. There are stories of people hailing from Vietnamese immigrant parents all over the Internet, which say that their own mothers have given up making pho because of the time needed to cook it. If they want pho, they all go to a restaurant that serves pho to fulfill their craving for the dish.
How long should it take for beef bones to simmer in order to come up with a good pho broth? Mai Pham and Andrea Nguyen both recommend at least three hours to simmer the broth, but there are other recipes that state that the beef bones must be boiled gently for six to eight hours. For restaurant-quality pho, the time required to simmer the broth can take up to 12 hours or more.
Why is it necessary for the boiling to take that long? The explanation is simple: It takes time for the marrow in the bones to dissolve into the water. You cannot force it with shorter but harder boiling because a hard boil distorts the flavor of the pho broth. The flavor of the marrow is the essence of the broth; it must be brought out gently and doing so takes time.
The time it takes to create pho broth is definitely worth it, though, and you will end up with a broth that is so tasty you will want to slurp up every last drop. Some people resort to buying so-called pho broth cubes or canned pho broth, but the taste is just not the same. It is thin and watery compared to homemade or restaurant-made pho broth. I know, I know. Those are just quick fixes for a quick pho but I just had to mention them.
Pho is not pho without its broth. The broth is the element that gives pho its life and soul. If you can enjoy the pho broth wholeheartedly, then the rest of the ingredients in the bowl will be enjoyable too.
This article is just dumb long. Please leave out unnecessary info and show simple detailed instructions on how to make the broth.
How come when i cook the bones to make the soup base, my soup turns ivory right? Not clear.. It's like a white soup that i can't see more than 1/2 inch down?
How do i acheieve the clear soup??
Hello Hung: The key to clear pho broth is the parboiling of the bones. To borrow Andrea Nguyen's instructions on parboiling bones for pho,
"Parboil bones. Place bones in stockpot (minimum 12-quart capacity) and cover with cold water. Over high heat, bring to boil. Boil vigorously 2 to 3 minutes to allow impurities to be released. Dump bones and water into sink and rinse bones with warm water. Quickly scrub stockpot to remove any residue. Return bones to pot."
I can't explain your "white" or "ivory" soup but you do need to parboil to get a clear pho broth. Good luck.
Hi Hung: You said "... I did parboil the bone for 10-15 minutes.. very little residue. But as i boil the soup.. the water becomes milky..."
Without addition information, and the specifics of your pot's content, I can only suggest the following:
Once you start with new water, first bring it to boil over high heat, then lower the flame to gently simmer. During this time, use a ladle to skim the scum on the surface. Once simmering, add the remaining broth ingredients and cook 1 1/2 hours, or however long your recipe calls for. Then do whatever else your according to your recipe.
Again without specific details, I suggest that after parboiling, you bring it to a boil, then simmer and skim the scums. If you're already doing this, then I'm not sure what else I can suggest. You sure you don't have any "secret" ingredients in there that you didn't share with us? 😉
Is it absolutely neccessary to have a clear broth? I ask because I've seen recipes that don't require par-boiling the bones which makes for a more "murky" broth, or I assume? Will this affect the taste? Honestly, I'm just an average Joe that loves Pho and looks and esthetics aren't on my top list of Pho greatness (compared to flavor and ingredients, which I care most about).
January 18, 2011 10:49 pm
Hi Craig: Yes there are many recipes that you can find online nowadays. That is not to say all of them are good and valid pho recipes. I would suggest you use recipes by the more respected food authors. But even so, do notice if the author really did describe his/her recipe as "fusion" or something similar, in which case the recipe is definitely not authentic.
I think most of us would agree that, regardless of how average you may be ;), food should be enjoyed with all your senses, right? For pho, the bowl served to you should meet certain standards to be considered good quality pho, and clear broth is one of those qualities. "Murky" broth has its place in the world of noodle dishes, but pho is not one of those dishes. Pho broth should be clear from the simmering pot.
Just like any other crafts, making pho requires certain skills to make it right, not just in your personal kitchen to serve a few, but in a commercial kitchen to serve many paying patrons, day in and day out. I think you should eat only pho with clear broth when served. This article may help: "Pho Broth: The Soul of Vietnamese Pho."