Update 04-11-19
After several false starts and an acquisition taken place, it looks like Pho24 plan to have a presence in North America may be a long way off, or if it will happen at all. Due to my rather busy consulting work schedule I'm currently maintaining, I have not kept up with the latest development of this restaurant brand. The content of this post is outdated.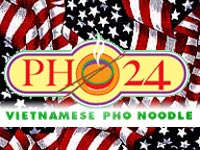 I've written about a number of pho franchises that exist both in the U.S. and in Vietnam. Most pho franchises tend to start in the states (mostly from headquarters in California) then expand to other states and Canada. Some have been more aggressive and ventured outside North America eastward toward Asia and Australia. There is, however, another aggressive move simmering: Saigon-based pho franchise Pho 24 is coming west to the U.S.
A Houston entrepreneur is in negotiation to bring Pho 24 where no Vietnam-based franchise has gone before, to borrow a certain well-known phrase. The plan calls for a number of Pho 24 restaurants to open over a yet to be announced period of time in key American markets, bringing the most authentic Vietnamese cuisine to sophisticated American palates.
On Pho 24's menu being offered in Vietnam are a variety of truly authentic pho noodle dishes, together with offerings of various popular Viet broken rice dishes and refreshments.
Pho 24's name itself describes the restaurant's offerings. Pho 24 uses 24 "secret" ingredients and spices in its pho broth, which is diligently stewed for 24 hours before it is served. The most common and popular pho bo and pho ga (beef and chicken pho, respectively) each costs $24,000 Viet dollars or US$1.35 (based on mid-May 2009 exchange rate.) Finally Pho 24 restaurants in Vietnam open 24 hours. I guess it remains to be seen if its American counterparts will do the same as well.
Details are still sketchy, but for pho fans in North America, there are reasons to be excited. Oh there's nothing wrong with your favorite local pho shop. But I must admit that given the chance to taste something authentically close to what's available in Vietnam, without actually going there, that's gotta be pretty cool.
When they moved into countries like Vietnam and China, American franchises like McDonald's and KFC had to make adjustments to their menus to cater to local tastes and to take advantage of local opportunities, strategies and supplies, all while maintaining their brand identity. It will be interesting to see what Pho 24 will do to its cuisine to attract American diners while staying true to its gastronomic roots.
More on Pho 24: