Updated 03-29-21. If you're planning to open your own pho restaurant, it's critical that you need to not only satisfy your customers, but also constantly fight back stiff competition as well. Both of these are important factors for your success. While many don't realize it, surviving the competition and satisfying guests actually start in your own pho kitchen.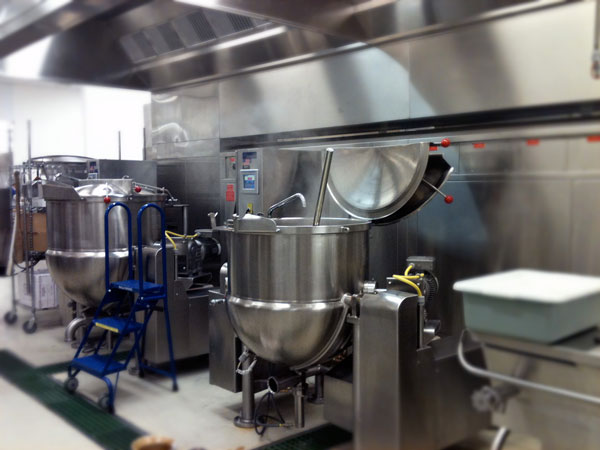 I've written a post on design of a pho restaurant's front and back of the house (FOH and BOH); see Tips For Your New Pho Restaurant's Front and Back of the House. Of course the FOH is important. But with a properly designed pho kitchen, you will have a strong engine that will help your whole pho restaurant run smoothly and profitably.
Many people think if they can make great pho at home, then they can do the same thing to make and sell pho to the mass. But this is not the case in the vast majority of situations. Making and serving pho successfully in a commercial kitchen requires detailed planning, strong discipline and attention to details, deep knowledge of the restaurant business, great people skills, and a lot of luck.
Well I can't give you luck, but I can certainly help prepare and coach you in all aspects of the business so that you create luck for yourself as you create and run your pho restaurant.
Check out a few pho restaurant kitchen floor plans below. Each was designed to meet what a particular menu calls for, how prep production and final service are carried out, how much volume and at what quality level foods are to be served, among many other factors. Unfortunately to a casual viewer, these important designed in features probably do not come across at all. These floor plans sure do look like other typical floor plans you've seen, don't they? Well, no two restaurants are the same, especially if you are serious about maximize profits from that location, and therefore each kitchen design needs to be designed and serve that particular restaurant's service and financial goals.
Here are some important points to keep in mind for an effective pho kitchen design:
In a commercial pho kitchen, some of the top areas to pay close attention to are employee safety, food sanitation, and contamination prevention. Pho restaurant operators need to pay attention to the following:
Making hot pho broths

. Some pho restaurants serve hundreds of gallons of pho broth a day. Having a constant supply of pho to serve hungry customers demands large quantities of hot broths to be made at a time. For reasons such as limited space, cooking equipment size constraints, etc., there is an upper limit of what pho makers can make at a time. Regardless of how a kitchen is equipped, the process and related issues of making hot broths are pretty much the same: long brewing times, hot boiling liquids, hot and heavy solids (bones, meats and other ingredients,) and handling/discarding of them. Pho restaurant owners need to consider their cooking equipment installation and their surrounding areas carefully to provide safe working environment for staff while hitting the quality marks all the time.

Broth storage

. Depending on how the kitchen operation dictates pho broth production, storing pho broths in bulk for later use is a good option, and many do employ this technique. The most important consideration in this case is the proper protection of the broths in terms of quickly cooling them, properly storing them, and rethermalizing before serving. Pho restaurant owners need to provide proper training for production staff to adhere to temperature safe zone requirements, to practice proper storage techniques, and to safely handle large quantities of hot and cold liquids and containers. Furthermore, proper cooling and handling equipment need to be installed to help staff do their jobs right.

Transporting

. Whether hot or cold, safe transporting of pho broths around the kitchen must be addressed during the design of the BOH. Assuming proper equipment are provided, pho restaurant owners need to work out the details and provide training to staff for transporting hot or cold broths between the kitchen, storing areas, and serving areas. The clear and important goal here is accident prevention, and have procedures in place in case an accident occurs.
To receive consultation for your pho restaurant, book a one-hour pho restaurant consultation below.

Consultation in Vietnamese and/or English as you prefer.
You will be booking in your local time zone, based on location of device you're using.
My location is San Diego, CA, USA (Pacific Time Zone (PT), Western US).