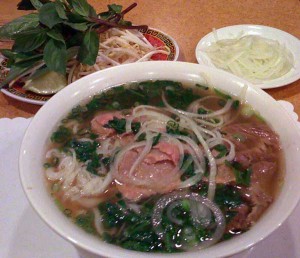 Here's a new section opened up for pho lovers on the West Coast of the USA, Pho California. I guess this means anyone west of the Mississippi is included and are welcome to share your passion about pho with the rest of us.
It's only natural that pho restaurants (or bistros as I like to call them) are concentrated around where Vietnamese-Americans live. If you're wondering, just follow the link to my rant on pho bistros.
I'm in San Diego CA. There are pockets of densely populated pho lovers (Vietnamese-Americans and other Americans) in California. Therefore pho bistros tend to pop up everywhere in the areas of San Diego, Santa Ana/Garden Grove/Orange County, Los Angeles and surrounding areas including the LA Chinatown, San Jose, and San Francisco. I'd imagine Seattle WA has a good number, and of course Houston TX is probably crammed with pho bistros. I'll have to think about how to categorize places like Houston, as they are definitely not West Coast, and I don't want to create too many categories.
If you live east of the Mississippi, check out the Pho Baltimore page, where I'm sure you'll read some rants from my good friend and pho partner Tim. He just moved to Baltimore with his girlfriend so he has lots of pho exploration to do.
Welcome everyone. On to posting some interesting pho info nuggets.