I drove by this place several times and I must admit Pho Vie II always looked crowded and popular. Situated on Westminster Avenue near the corner of Brookhurst (southeast side), it has plenty of competition within walking distance but still manages a decent crowd of followers. On this trip to Little Saigon I decided to go in for a large bowl of pho bo of tai, chin, sach (beef: rare, well-done brisket, tripe).
"Vie" means "Life" in French, and I believe the people at Pho Vie II truly believe in a fully enjoyable and immersive life of pho, because their pho is very good and the service is friendly. You can read a few Pho Vie II reviews on Yelp.com. They run 50% off on pho ga (chicken) but personally I don't think that's the reason for the crowd. I think it's because the pho in general is very good - tasty soup stock, fresh ingredients, perfect al dente-like noodle, and fresh Thai basil, ngo gai (culantro) and sprouts.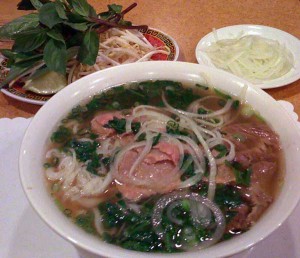 Here's what I had and my rating:
Jan 11, 2009
Pho tai, chin, sach (beef: rare, well-done brisket, tripe) with vinegared-onion on the side.
Pho noodle: (5/5)
Soup stock: (4/5)
Meats: (4/5)
Garnishes*: freshness (4/5)
Garnishes: extra point for fresh ngo gai (4/5)
Extra points: 2 for interesting restaurant look/dining room area.
Total points: 23
* No points for expected garnishes of sprouts, Thai basil, lime and chiles.
If you're in the area give Pho Vie II a go. If you're lucky there won't be a long line.
Pho Vie II
10120 Westminster Ave
Garden Grove, CA 92843
(714) 539-5224

View Larger Map