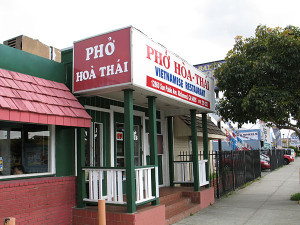 Having just moved to the Berkeley Area I was eager to get my first Pho fix. There is Vietnamese food on every other corner around here, although many of them don't have Pho, or if they do it's not what they are known for.  So I fired up Yelp and looked for a place nearby that had Pho in the name and decent reviews, I found a place up in Richmond on the infamous San Pablo Ave, Pho Hoa Thai.
A bit of a rough area I approached this place with a little caution not wanting to draw too much attention to myself; however being a 6'4" long haired bearded white guy it is hard not to stick out like a sore thumb.  My wife and I strolled in on a Sunday afternoon, I expected it would be crowded but there were only about 3 other parties in there, uh-oh I thought that's not a good sign, but oh well we were here and there was no turning back at this  point.
Once we were inside it was all standard Pho style restaurant, a little dingy and funky, but that adds to the charm right? We both ordered the Pho Tai, and usually I get a small as does the wife, occasionally she will order the large like she did this time, and being in a new place with some tough looking wait staff I couldn't dare order the small if she was ordering the large, so 2 large Pho Tai's please.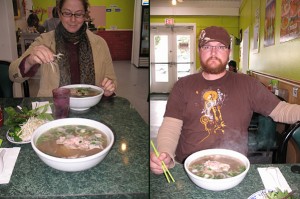 OMG, that is the biggest bowl of Pho I have ever seen! The garnishes were plentiful and possibly the freshest I've seen, I usually don't add the sprouts as they don't always seem to be crisp and clean, these however almost looked fake they were so fresh. Everything tasted great the only thing was something was a bit off with the noodles themselves, couldn't quite put my finger on it, but they just didn't taste quite right, maybe they were just a different style than I'm used to, or maybe they were overcooked, not really sure.
Anyway all in all a pretty good place for Pho, and with a lot of the Vietnamese places in the Bay Area they also serve a selection of Thai cuisine, hence their name Pho Hoa Thai, not sure why they do. I probably won't make a special trip to go back to this place, but if I'm in the area and need a Pho fix I'd have no problem to go again.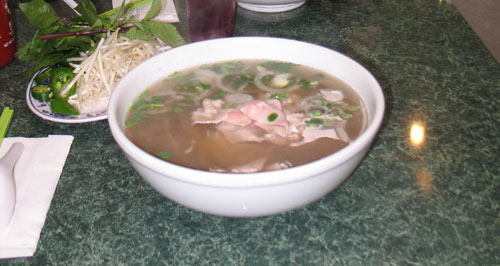 Pho noodle: (2/5)
Soup stock: (4/5)
Meats: (3/5)
Garnishes* freshness: (5/5)
Price: Baseline ($6-7), no extra points or deductions
Extra Points: 0
Total Points: 14
* No points for expected garnishes of sprouts, Thai basil, lime and chiles.
Pho Hoa Thai
12860 San Pablo Ave.
Richmond CA, 94805
(510) 235-1223