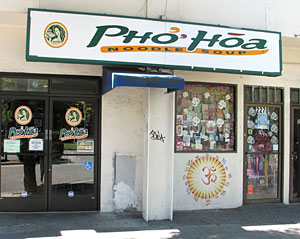 Having passed by the Pho Hoa several times since moving to Berkeley I decided it was time to sample the goods. Before going in I didn't realize that there even was such thing as a Pho franchise…? Really? Check out Cuong's post about the franchise here.
Since I always know what I want, Pho Tai, the only thing that varies is the size and whether or not I want some eggrolls to accompany it, this time just a small Pho Tai. I rarely even look at the menu because of this. I suppose I ought to start giving it a once over just to get a better feeling of the joint, and perhaps get a little more adventurous and throw in another meat here and there such as some brisket or meat balls. 
Anyway the place is very clean right in the middle of downtown Berkeley, run by Vietnamese with plenty of Vietnamese patrons so I figure it must be pretty good. When my bowl arrived the first thing I noticed was the logo of Pho Hoa imprinted inside the bowl, that's odd I thought, never seen that before…I wonder is this place a chain..sure enough…who would of thought?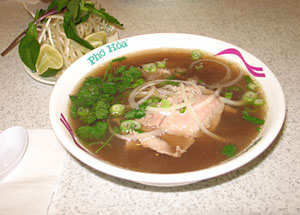 After figuring this out my quality radar went on high, and I was pleasantly surprised. The Pho was quite good, and one of the better richer tasting broths I have had in a while. Plenty of meat for a small Pho which was nice as sometimes you get skimped on the smalls. Fast and friendly service, fresh quality all around, overall a great bowl of Pho. Only complaint I have is the garnishes were a little on the small side for 2 people, and the price was a little higher than normal. I would have no problem going to any Pho Hoa franchise to settle the craving, however I probably wouldn't seek one out specifically, I prefer the smaller mom and pop establishments.
Pho noodle: (4/5)
Soup stock: (5/5)
Meats: (4/5)
Garnishes* freshness: (5/5)
Price: Baseline ($7-8), no extra points or deductions
Extra Points: 0
Total Points: 18
* No points for expected garnishes of sprouts, Thai basil, lime and chiles.
Pho Hoa
2272 Shattuck Ave
Berkeley CA, 94704
(510) 540-9228