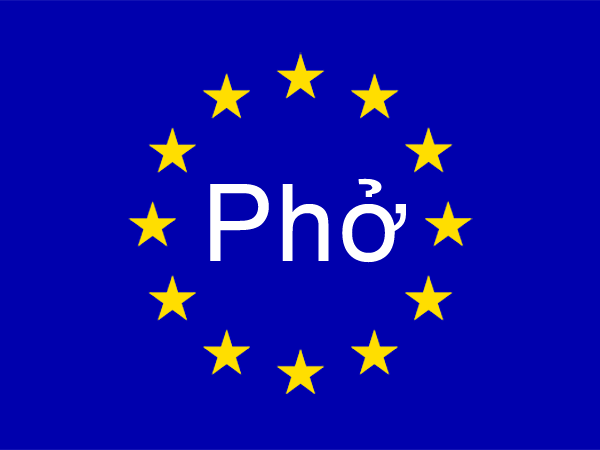 Vietnamese pho in Europe? Not exactly catching on by storm like pho in the U.S., Canada and Australia, but there are enclaves of Vietnamese living in Europe. Let's take a look at how pho got to Europe and how it's doing in the European marketplace. Through my communication with a few European pho fans on Twitter, I could see pho's prominent existence in places in Europe. And we all know...
Where There Are Vietnamese, There Is Pho
Pho is a dish that is closely identified with the culture, way of life, traditions and history of the Vietnamese people. Thus, it is more than reasonable to expect that where there are Vietnamese, there is Vietnamese pho.
The story of how pho came to Europe is not similar to how pho came to the United States.
There were at least 3 major waves of Vietnamese arriving in Europe. The first was during French colonization of Vietnam (or Indochina.) This long period has seen Vietnamese people traveling to France and settling there since early 19th century. Of course there were slaves, but the majority were educated and affluent (if not noble and royal) Viet citizens. The second was after the Fall of Saigon in 1975, when thousands fled Vietnam to find freedom elsewhere. These were mostly from south Vietnam, but the refugees included many northern Viet who migrated south in 1945. This second Viet diaspora saw the displaced Vietnamese settling en masse in the United States, in Australia, in various corners of Asia, and in Europe – France in particular. The second wave, which lasted for more than 15 years, saw a more educated population in the early years and those more desperate to get out at any cost in the latter years. The third wave consisted of Vietnamese workers sent to the then Eastern Bloc European countries, including the U.S.S.R., as laborers by the post-1975 Vietnamese Communist government.
So why are all this important? They're important for several reasons. My theory is that the first wave did not have much to do with pho in Europe. This is because pho did not come into existence until early 20th century. After that pho would go on its own development/formative years in such a way that it became the commoners' food - hardly worth the trouble for Vietnamese to worry about heading off to Europe. It was a time for Vietnamese to learn and explore, or to slave for someone else. In either case, whatever Viet foods they prepared for themselves while in Europe would face a challenge of finding the right ingredients anyway.
The second wave after 1975 was the key force responsible for bringing pho to Europe. These were refugees looking for new homes, and they found their new livelihoods in Europe. These large settlements combine to create the perfect ingredients for Vietnamese pho to thrive, both in the form of home-cook pho and restaurant businesses with an eager clientele.
While many Vietnamese from the third wave stayed on in Europe after the collapse of the Eastern Bloc circa 1989-1991, there was no evidence that they contributed in any major way to popularize Vietnamese pho in Europe. For some who opened their own pho restaurants, they were merely riding the wave of Viet presence already established by Viet refugees in these countries.
Vietnamese Pho Marginalization in Europe
One of the sad facts of the Viet diaspora is that the Vietnamese in Europe have not really flourished in that continent as they have in the United States. In many European countries, especially those in Central and Eastern Europe, the Vietnamese are somewhat marginalized and are simply trying to make ends meet. The Internet has many stories including this one about the plight of the Vietnamese in Poland.
But it's not impossible to find pho in Europe if you know where to look. The pho-nomenon may not be as hot in Europe as it is in the United States or Australia, but if you want a good bowl of pho in Europe, just find your way to a Asian/Chinese/Vietnamese enclave. If one does not exist in a country, then it doesn't exist. But you can't miss if you can find your way to a Chinatown or "Asiantown."
Pho in Europe: The Bottom Line
In the end, it's not fair to speak of Europe as a single place. There are of course many countries and there are pockets of Viet people living in each country. It's almost too funny to say it, but if you want to find good Vietnamese pho in Europe, start in France. Here's a piece on Vietnamese Pho in France. With the availability of the Internet nowadays, it's super easy to find if there's a pho restaurant nearby. And once you find one, remember my motto: If a Viet restaurant has no Viet clientele then continue your walk. A crowded pho shop with Vietnamese slurping away is a sure sign of great pho. In Europe or anywhere else.