I posted a new poll just a few days ago called Do you take leftover pho to go in a takeout container? Of all the polls that I run on LovingPho.com so far, I've never had a strong reason to write something about it right away. This is the first.
As shown in the screen snapshot of the result at right taken as of 07-25-14, people who take the poll are saying the following:
38% say they never take leftover pho to go in a container, even when they can't finish,
19% (14% + 5%) say they do it when they can't finish their pho in the restaurant,
43% say they haven't a clue what we're talking about.
Here's the thing. Vietnamese rarely take home leftover pho from restaurants. Even at home, we don't save leftover pho for later either. The fact is, except for a few real hungry individuals, most Vietnamese do not finish their bowls to empty, at home or in restaurant. Most people eat the banh pho noodle, the meat and other stuff in the bowl, and about 1/2 to 2/3 of the broth, and then leave the rest. Most of the 1.3 or so billion Chinese do not empty their bowls either; they eat all the noodle and things but not all the broth regardless of how great the broth is. It's just not the way.
Take the poll

Loading ...
There are a few reasons for this, but the primary one is most noodles when served in broth come with a ticking time clock. Pho and noodle shops serve them fast to waiting customers because they want to minimize the time the noodle sits in the broth before the customers start eating. We all know that noodle turns to mush if left untouched for too long. It's the same reason why you wouldn't eat a bowl of pho after it sits for a few hours. And the same reason why many refuse to eat pasta cooked much beyond al dente. The noodle gets bloated and turns mushy.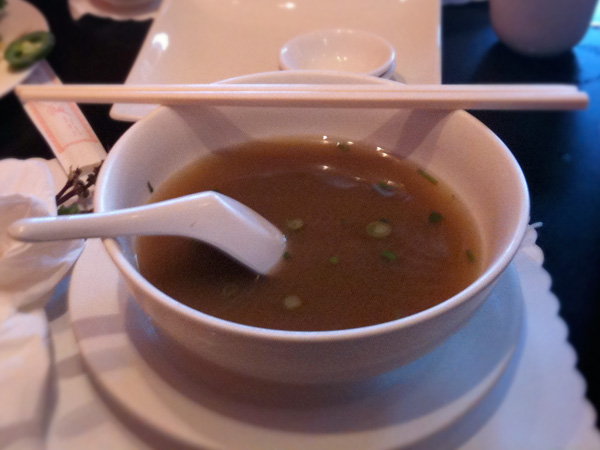 If I were to do this exact poll strictly in Vietnamese for the Viet market, it wouldn't make any sense. From the early days of pho in the U.S. until even now, many Viet people sort of chuckle when seeing someone requesting for a takeout cup, then pour everything from the bowl into the cup. But let me make absolutely clear here that it's not my intention to be snobbish or condescending. This is not about being right or making fun of others. It's about etiquette, if you will, and it's about understanding and preventing culture clash. Obviously, people have the right to enjoy food their own way (witness most of us Americans eat sushi, is there right or wrong anymore?) My point is, as pho becomes more mainstream, pho will belong to the mainstream as well. And if someone wants to take home leftover pho, reheat it and eat the mushy rice noodle, then it's his or her choice.
The poll so far surprises me in 2 areas:
I would never expect 19% of people (almost one in five) take home their leftovers. I was expecting much lesser number.
And I would never expect 43% aren't sure what the "issue" is. Now you know, but sorry you can't retake the poll 😉
So what's your take on this? I think I've just tainted the poll.
Read my post on Leftover Pho: A Better Alternative.
SaveSave
SaveSave
SaveSave