Updated 09-06-14. I started this poll about a month ago (April 23, 2009 to be exact) just out of my personal curiosity, and I'm floored by the result so far. As of today, May 26 2009, the running count is as shown to the right.
According to the numbers, a whopping 45% of pho slurpers invited themselves to their first bowl of pho! That's absolutely amazing!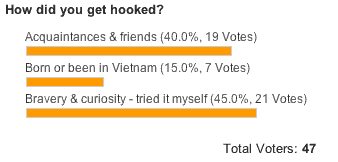 Only 40% were dragged in by their friends and acquaintances.
I labeled it "Bravery & curiosity" as I thought to myself: "can't imagine who would do this?" except for a few individuals who'll just try anything. But, man, was I wrong!
For whatever reason that a person got the urge to go and order a bowl of pho for the first time himself or herself, I'm totally impressed. True bravery & curiosity. I wish there's another way to understand this sort of mass movement, but unfortunately not from the same data collected. Maybe we'll get people to leave comments about why they do this?
I'm sure over time the result may change, but at this rate I'm not so sure. Anyway the poll will continue. If you haven't dropped your vote I hope you do so. And thanks to all who voted, and to those who are about to.
Take the poll below, or click "View Results" to see the latest vote tally.

Loading ...