Updated 08-18-14. Luong Son Quan (Bo Tung Xeo) is a great place to hang out with friends for dinner and lots of drinking. Sort of a beer garden, Vietnamese style. But it's much more than that. On the menu are exotic dishes for "nhậu," the Vietnamese term for eating and drinking, with emphasis on the drinking part. When men, (and some women) get together to "nhậu," of course the liquids flow, but a very important part of the practice are the side dishes (snacks, but not entirely, if you will) to go together with the drinks. The foods are not meant to be meals to fill you up. Rather they serve to enhance the drinking and socializing experience.
Check out some of the items on the menu (last photo below, click to view hi res photo.) Sautéed eel with fresh milk. Stewed snake with lemon grass. Minced snake. Curried wild pork. Sautéed field rat with coconut. Sautéed pork stomach with green pepper. Grilled frog legs. Sautéed eel with banana. Sautéed sea snails with banana. Curried goat. On another menu board I also saw roasted rabbit - yummy bunny!
On top of everything (no pun intended,) there's the movable ceiling/roof made of woven baskets! How cool is that? During our dinner, it started to trickle so in goes the roof. Afterward, when it stops raining, opening the roof provided great air circulation for a hot and humid Saigon night. Enjoy the photos.
Luong Son Quan (Bo Tung Xeo)
31 Ly Tu Trong St., District 1, Saigon
Telephone: (08) 8251330
(From Hai Ba Trung - Ly Tu trong crossroads, turn to one-way Ly Tu Trong st. This restaurant is on the right)
Table grilling at Luong Son Quan Bo Tung Xeo, Saigon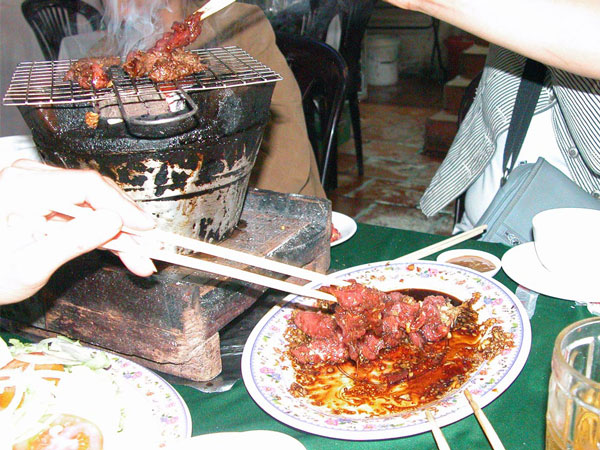 Moveable ceiling/roof at Luong Son Quan Bo Tung Xeo, Saigon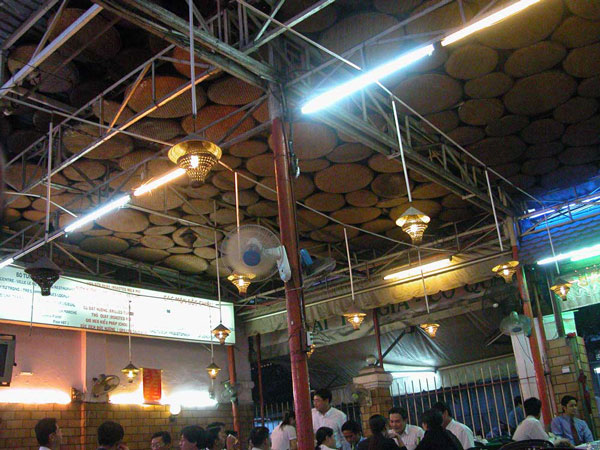 Opening ceiling/roof at Luong Son Quan Bo Tung Xeo, Saigon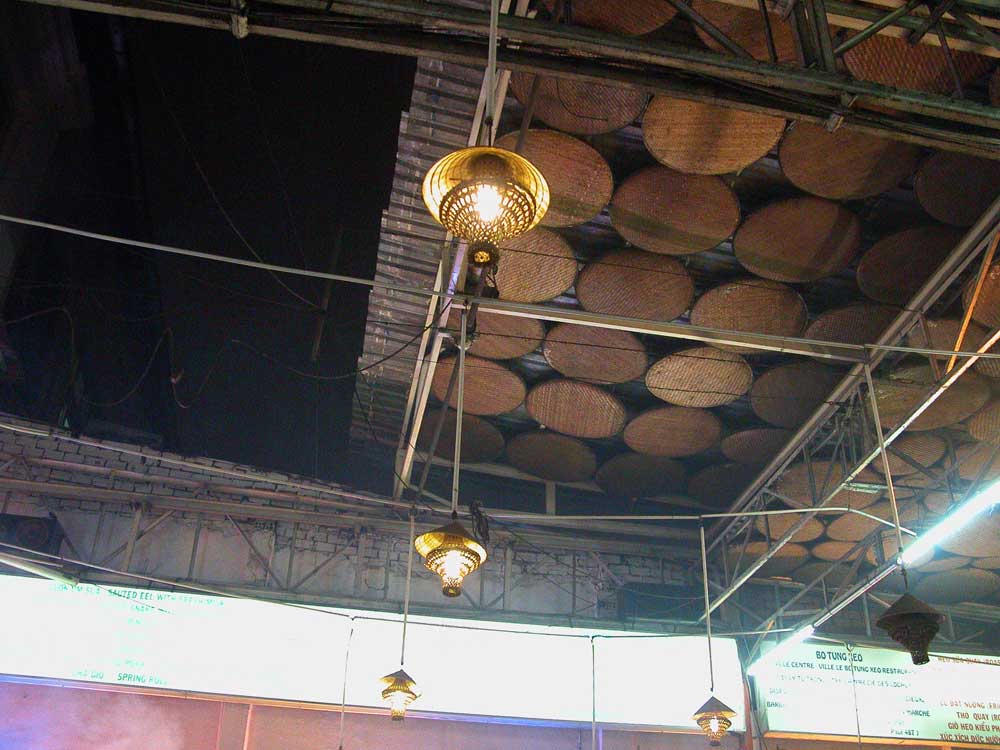 Dining room and menu at Luong Son Quan Bo Tung Xeo, Saigon