Updated 04-01-15.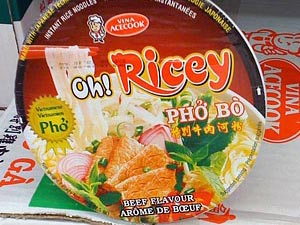 Americans may look at instant ramen noodles a little funny, but in truth these cheap dry noodles in a cup or a bag play a very important part in sustaining the Asian families especially during hard times. The Japanese love noodles as much, or maybe more than anyone else, so it's no surprise a Japanese named Momofuku Ando invented instant ramen back in 1958. Today Vietnamese pho gets the same instant treatment in the form of instant pho, or phở ăn liền (ready-to-eat pho.)
But first a few words about the instant ramen itself. Asians know that instant ramen is imitation noodles so there's no point criticizing it. For Asians living in Asia, instant ramen can be cheap and quick meals when you can't have the real thing - due to a variety of reasons, economic included. For Asians living outside of Asia, particularly in Western countries, instant ramen stands for something quick and dependable until the real meal. Instant ramen is the self-serve Asian fast food, and to most Asians, it is the comfort home food, pretty much in the same way peanut butter and jelly sandwich is to Americans. Except that many adult Asians enjoy eating it too. Nowadays my guess is it's also a popular college dorm food.
Instant Pho
There is a reason why instant ramen, and instant pho, took the world by storm. In today's fast-paced life, instant ramen caters to a need to feed and satisfy hunger in less than five minutes. After all, all you need to do with instant ramen is to boil the noodles in water, add the contents of the packet of seasoning, and voila!  In recent years instant ramen even comes in foam cups or bowls where the only thing you need to do is to add hot water and let it sit for a few minutes. Witness the Cup-Noodles popularity.
So instant pho is riding the instant ramen momentum. In fact many Vietnamese dishes do get the instant treatment, including the rice porridge! In many Asian supermarkets and grocery stores, you'll find sections full of instant ramen offerings. Pho bo, pho ga, pho chay (vegetarian version) are all available. For the large Viet consumer segment in the U.S. (and I would guess the same for Australia and Europe) instant pho and other Viet-dish based instant varieties are now the top choices.
Preparing Instant Pho
Preparation, what preparation? It's instant pho! With modern convenience, all you need is hot water and 3-5 minutes of your time. Actually, your instant pho experience can be greatly enhanced by adding freshly chopped green onions and cilantro before "cooking" it. Also there's no question about instant pho's authenticity or taste - it's not authentic but you can still taste traces of pho from it. Many people add other ingredients to increase their eating enjoyment. My personal favorites include broccoli or a variety of different Chinese cabbages like bok choy, and leftover Chinese BBQ Char siu, if you have it.
Instant Pho - the Good and the Bad
Now, the question is: Is instant pho bad? The answer is: Not necessary.
Here's how I look at it. If you treat instant pho like a snack, then it does its job pretty well - all snacks are bad anyway. If you see instant pho as your last resort, then it is great and you're thankful they made such cheap foods! And if you consider instant pho "junk food," then having a little guilty pleasure occasionally is okay too. The smart instant pho eater (or of any instant ramen for that matter,) however, do look out for the amount of servings, fat and sodium in each package. Here's what I mean.
If you look at the Nutritional Facts very very closely, you'll see what you're really consuming. In the first sample below, each bowl contains 2 servings, with 380 calories, and 110 calories from fat! Furthermore, you're also getting 12g (18%) Total Fat, 6g (30%) Saturated Fat, and a whopping 2472 mg (104%) Sodium in every bowl! Pretty sneaky that they use 1/2 bowl serving size. I've seen 1/3 bowl serving size labels!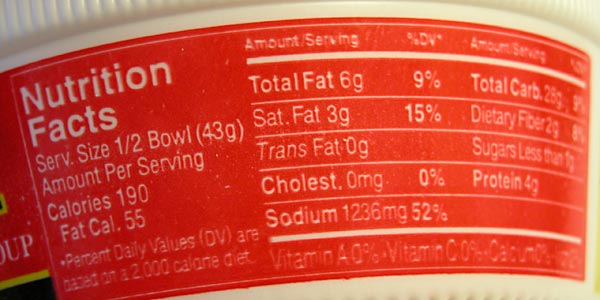 In the next sample, each bowl contains 1 serving, 280 calories, and 110 calories from fat. You're also getting 12g (18%) Total Fat, 6g (30%) Saturated Fat, and 1950 mg (81%) Sodium in every bowl. A little better, but still pretty bad.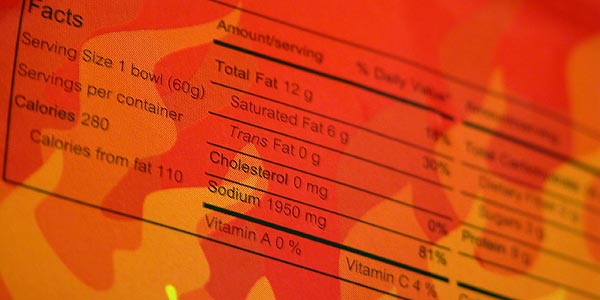 So the question is not if instant pho is good or bad, but if it is good for your health. Eating too many of these bowls (and other instant ramen) will probably kill you faster than the time it takes to debate whether they taste good. Remember that scene when the Sundance Kid says "I can't swim," and Butch Cassidy says "Are you crazy? The fall will probably kill you!" The sodium (MSG) itself is not as bad as many people make it out to be, according to the Mayo Clinique and the FDA "What is MSG? Is it bad for you?", but the amount packed in there is way over the top.
Vietnamese culinary author Andrea Nguyen did a taste-off of instant pho available in Asian markets in her community. What was her conclusion? It is that instant pho tastes somewhat more authentic than instant ramen, and that she would not mind keeping a stash of instant pho in her cupboard if she wants a quick fix.
I, and I'm sure many others, do the same thing too.
Originally published 07-31-09.