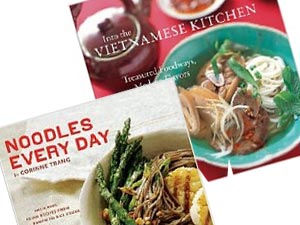 On a few rare occasions I go off the pho path to highlight non-pho topics. I'll give some buzz anytime for two of my favorite culinary experts, one on the East Coast, the other West Coast. I respect them and their works, so here's what going on.
Corinne Trang to Lead Culinary Tours of Chinatown, NYC
Straight from her blog: Join award-winning cookbook author Corinne Trang, a celebrated expert on Asian cuisines, as she guides you through New York City's Chinatown demystifying the world of Asian ingredients. You'll discover markets specializing in dried seafood, bird's nests, and more, and meet an herbalist. You'll visit a typical Asian supermarket and vegetable stand where condiments  and produce will be identified and tips on proper storage and use will be revealed. You'll taste all sorts of dumplings, northern style pulled noodles, Southeast Asian beef jerky, and Asian-style ice cream including black sesame and lychee. The tour will also include a Taiwanese tea service. All you need is an open mind and an appetite.
Tours are scheduled every Wednesday starting the first week of July, from 10 AM to 2 PM (unless otherwise noted) for a minimum of 8 and maximum of 10 persons. (Please note: autographed copies of Essentials of Asian Cuisine (2003), The Asian Grill (2006), and Noodles Every Day (2009) are extra and available at a discounted price.) For more information including cost or to arrange a private group tour, please email ct@corinnetrang.com. Visit CorrineTrang.com.
Andrea Nguyen Featured on Slate & Gourmet
From "The Recipe Detectives" by Sara Dickerman on Slate.com, Andrea is featured among other well-known cookbook authors.
With Into the Vietnamese Kitchen, Nguyen, who immigrated to the United States as a child, unearths Vietnamese traditions and describes how they changed in the immigrant community here among the supermarkets and food processors of the States. She spends ample time demystifying the Viet pantry with practical advice—"Premium fish sauce is reddish brown and clear. Avoid dark inky liquids that are overly salty and flat tasting"—but not without true sentimental moments:

One of my most vivid memories is of our cook, Old Sister Thien, squatting and fanning the small charcoal brazier on which she grilled corn on the cob. As the corn cooked to a charred chewy sweetness, she brushed on a scallion oil made with home-rendered lard. The aroma and taste were heavenly.
Then on Gourmet.com, Matthew Amster-Burton poses the question "Did Vietnam invent the Frappuccino?" in his article "The Vietnamese Frappucino."
I checked with Andrea Nguyen, author of Into the Vietnamese Kitchen and an authority on the cuisine. "No, I don't think that Vietnam could have invented the Frap, since blenders were really a newcomer in terms of appliances for the masses," she wrote in an email. "I believe that such drinks are available now in Vietnam because they are quick to copy anything done abroad."
Have great pho day!