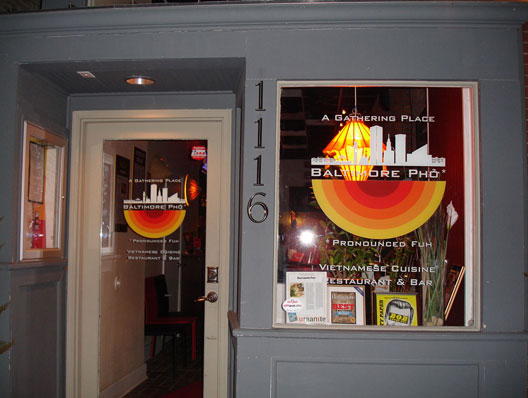 Alas! Our first East Coast Pho review! Actually, my first blog entry ever. Can you believe? Anyway, enough about first times...let's get to the Pho!
It was a cold night in Baltimore and what better to eat than a hot bowl of Pho, right? The only Pho place near downtown, which happens to be in a somewhat "rough part of town" (to say the least), is "Baltimore Pho." So, we hopped in the ole' Jeep and we were off!
Upon arrival, you can't help but notice Baltimore Pho as it's the only light within blocks...sort of a beacon in the rough sea. As we walked through the door, to the right of the upscale bar, we were greeted by a friendly chap dressed in all black with a red necktie. "Two for dinner tonight?" Before we could reply, we were off to our table.
As we took our seats, we noticed the fancy decor and immediately I felt out of place. Is this a Pho restaurant or upscale, Asian fusion? Where are the big bottles of sriracha and hoison sauce on the table? Where are the chopsticks, the big spoons? Not the traditional Pho spot, but hey...it's something different and they give you a big plate of "prawn chips" while you wait. These things are more addicting than heroin!
The menu consists of all the traditional bowls including Pho Tai, Pho Ga, but what's this?!?...Pho Chay (vegetable pho with tofu). Now this is unique, but the best part is, you can order this with veggie broth! That's right, full vegetarian Pho my friends!
One gripe I have with Baltimore Pho are the prices. I guess with upscale environment, high prices accommodate. I mean 10 dollars for a bowl is unheard of coming from a guy out of California.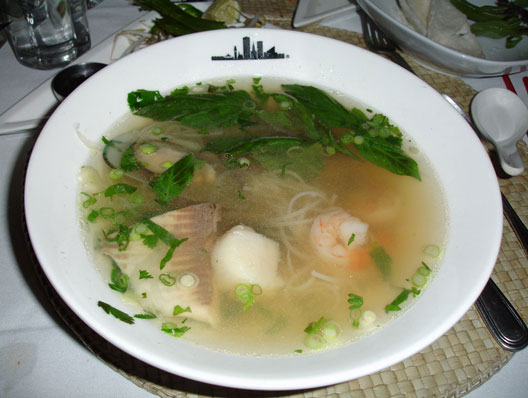 So, I decided to go a different route and ordered the Pho Do Bien (seafood), which is a special Baltimore blend of crab, shrimp, scallops, mussels and white fish and isn't considered to be true Pho (Check out Cuong's post "What is Vietnamese Pho?" to learn more about authentic Pho.).
The Pho came out looking great. Steam was flowing from the top like a manhole cover in the streets of San Francisco. The veggies were fresh and they even included fresh ngo gai (spikey leaf-like veggie), which we all love so much. Only complaint here is they give you a little sliver of lime...barely enough to squeeze ten drops out of. Another issue I have is with the amount of sauce given. I mean come on...I need more than a quarter' diameter cup of hoison and sriracha. What the Pho is up with that? After I complained a little, they came back with a lot more and I was happy 🙂
All in all, great place. Baltimore Pho has some unique features you wouldn't find at most Pho places and for this I will be back.
Rating:
Pho noodle: (4/5)
Soup stock: (4/5)
Meats: (4/5)
Garnishes* freshness: (4/5)
Garnishes: extra points for fresh ngo gai (3/5)
Extra Points: 3 for clean dining, upscale environment, friendly wait staff
Negative Points: -2 for high prices
Total Points: 20
* No points for expected garnishes of sprouts, Thai basil, lime and chiles.
I would recommend this place if you don't mind the high prices.
Baltimore Pho
1114 Hollins St
Baltimore, MD 21223
(410) 752-4746
http://www.baltimorepho.com