Updated 09-12-09. Corinne Trang is a prolific cookbook author and Asian cuisines and culinary expert. Her latest book, Noodles Every Day, is my kind of book. I love anything slurpable, pho or otherwise. Sure we're all about Vietnamese pho here on this site, but don't forget, pho is but one of many popular Asian noodle dishes. Each bowl of noodle provides a full meal in itself. So now that her new book is out, I am excited to have an opportunity for a Q&A with Corinne Trang. I got her to do a noodle face-off between pho and other noodles, and talk about finding one's roots, writing books, teaching others, making food and living life.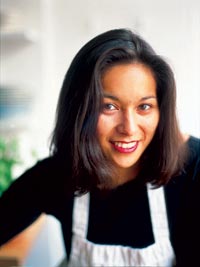 First a little bio on Corinne Trang. She is an award-winning cookbook author, expert on Asian cuisines and cultures, beverage and food consultant, brands and commodities spokesperson, lecturer (NYU, Syracuse, University of Texas, etc...), and chef. A frequent radio and television guest (NPR, Business Talk Radio, Bloomberg, Martha Stewart Living Radio, CBS, ABC, NBC, FOX, Discovery, Lifetime, TV Food Network, and more), she is the Chief East Coast Correspondent for America's Dining and Travel Guide (Business Talk Radio). For the latest on her current book tour, visit Corinne Trang's Tour Dates, and for up-to-the-minute info, follow her on twitter.com/corinnetrang.
Now on to our conversation. For those aspired to pursue a culinary profession, Corinne Trang reveals some interesting nuggets about her road to success that might just help inspire some to get there a little faster. Enjoy.
LovingPho (LP): You have been in many places including in Europe, Asia and the U.S. Which of these places may take the most credit in forming the Corinne Trang we know today?
Corinne Trang (CT): All of the places I've visited-a winery in Burgundy, France, a farmer's market in Capri, Italy, a fishing village in Cebu, Philippines, an artisanal soy sauce factory in Japan, a BBQ joint in Lockhart, TX, or sitting on a sidewalk in Saigon, Vietnam eating pho-have shaped my career on many levels. Every place has something special to offer, and no matter how many times I've gone back to them, I always learn something new. I think what has shaped my career the most is being open-minded and generally curious, and my desire to try new things, and willingness to take a back seat and learn from those more experienced than myself.
LP: Where did you spend most of your younger years growing up, in between Phnom Penh, Paris and New York?
CT: Well at this point, New York (I'm still young!), but seriously I was born in Blois, France, but when I turned 6 months old my father, who is Chinese but born and raised in Phnom Penh, Cambodia, decided to take the family back to his home. So we lived there until the war broke out, and about 2-1/2 years later moved back to France. When I was 10, we moved to New York. It was supposed to be a summer vacation, but here I am today, still in New York, the city that never stops.
LP: You were born in France. We'd all like to think that our birthplace has contributed to what we are and do today. How has this formed your current professional pursuit, or maybe growing up in France had little to do with your success now?
CT: Growing up in France had a lot to do with how I think about food. I grew up with a French grandmother who always cooked. Even while running her own business, she always found the time to cook for a rather large family. Going to the farmers market with her was a blast. She'd take my hand, her panier (basket), and we'd go strolling up and down the aisles of the town market. She'd pick up the stinky cheeses, poke and smell them, one after the other. She'd smile and get excited when picking fruits and vegetables.
We'd go to the town butcher for some fresh meat, and the charcutier for cured ham or dried sausage, for example. Then we'd go home talking about the meal she would prepare for dinner that day, all the while eating a warm French baguette just picked up on the way home from the local boulangerie. This was a daily occurrence. Moving to New York was very hard at first, and traveling back to France became really important as a result. The wonderful part was mealtime. We took our time eating, sipping wine (yes I did have glass, even if watered down!) It was not just about eating, mealtime was very much about socializing.
LP: Tell us about your time in Europe. What were some of the most memorable things you learned there?
CT: I'm like a sponge. I pay attention a great deal no matter where I am, because if I don't I'm afraid I'll miss something and that would be a bummer! I learned to use my senses-feel, touch, smell, hear, and taste. It may seem like a simple thing to say, but it isn't. I learned to develop my palate simply by trying and remembering.
In Europe every meal shared with friends and family was a pleasurable lesson. In my hometown of Blois, I could be watching my grandmother blind-baking the most buttery, crispy French apple tart, or I could be in Paris standing next to my Chinese aunt deftly chopping a Cantonese roast duck with a cleaver. I could be walking a thousand steps up to the town center in Capri to shop for produce, and walk these same steps down back to the kitchen where I worked as a private chef to make fresh pasta, a daily occurrence. I could be in St. Sebastian, Spain having a delicious meal in a tapas bar where the bartender seemed not to pay attention to what I was picking out of the seafood bar, yet always managed to add it all up when I was ready to pay. I could be strolling along the vineyards in Burgundy tasting the grapes on the vine, or tasting several different types of herring on a smorgasbord and doing shots of aquavit in Stockholm.
The most memorable thing I learned in Europe, and Asia, was to take the time to celebrate one of the greatest pleasures life has to offer, and that is food. It's something you either feel or you don't, I think. Some people eat because it's fuel, taking every ingredient for granted. When I eat, I truly savor every bite and think about it. I want to know why the texture is so. I feel most engaged when I'm handling an ingredient, looking at its shape, paying attention to its color, and smelling its aroma, for example. I love when it talks to me as it sizzles in the pan.
LP: Do you still go back to France often?
CT: I have gone back to France. I do have both my French and Asian side of the family still there. It's been three years since I've gone back now, however, and that's because I've been so busy writing and working in general. I feel restless these days, which means it's time to go back again.
LP: Can you share with us some of your favorite French dishes, if any, and why they're significant to you?
CT: I love crêpes because my grandmother used to flip them in her pan, and immediately look at me with a grin as if to say "see that...want to see it again?" and she'd do it again. By the time I got that lacy crispy golden crêpe, it had been flipped several times over.
Lapin aux pruneaux (rabbit with prunes) was another one of my grandmother's specialties. I just loved the way this sweet old lady used to kill the family rabbits. By the hind legs she'd pick one up, and swing its head against the concrete floor in the backyard. Instantly dead on contact, she'd take a pairing knife and score the skin around the rabbit's neck, and pull its skin off in one shot. She would then gut it, reserving the offals. In the pan, she'd melt butter and brown the meat cut up into eight large pieces. She'd then sautee garlic and shallots in the same pan and return the rabbit along with prunes, a little cognac and some water. Cooked down until tender, the rabbit was absolutely delicious. I do the same dish but instead of thyme I add rosemary. I also loved the Cavaillon melons she'd serve as a starter. She'd split these small fruits in half, remove the seeds, and fill the hollowed out part with Porto. Even as a kid, I was allowed to scoop up the melon with some Porto. I could go on, but you get the idea.
LP: I think the Washington Post first coined the terms "the Julia Child of Asian Cuisine." Of course earning such recognition is really no small feat. Do you remember who originally made this comparison and under what context was it done?
CT: When Essentials of Asian Cuisine: Fundamentals and Favorite Recipes (Simon & Schuster, 2003) came out, it was well received. For me it was like a dissertation, taking on eight very important Asian food cultures and tracing them back to their ancient Chinese roots, demonstrating how similar yet unique they each had become over millenia. Of all the books I've written, this is my favorite. I had a terrific editor who understood that it was an important book. As a result she gave me carte blanche and I was able to write that book the way I wanted to at the time. I handed in more than double the pages I had originally been contracted to write.
When it finally came out. It was instantly recognized as a "masterpiece" (NPR) and compared to The Joy of Cooking, for example. It's also been referred to as a reference book and has been cited in several other cookbooks. I'd love the chance to update it some day, but I fear I would double the pages again! It would take a lifetime and a thousand volumes to explain fully all the wonderful foods Asia has to offer. We're talking about thousands of years of history. With Essentials of Asian Cuisine, I tried and am happy with the results.
LP: How did you feel when first heard or read about this Julia Child comparison? Did you have any problem with it? If so why?
CT: It was truly an honor to be compared to one of the greatest chefs and cookbook authors of our time. I have no complaints, just grateful.
LP: You have authored and/or contributed to some very exciting and beautiful cookbooks. Which was your favorite in terms of the creative process?
CT: In terms of creative process the most challenging was Essentials of Asian Cuisine. This is where I got to explore my other passion, photography. All the black and white travel photographs in the book, I shot. I also styled the color food shots, and partially indexed the book. Dealing with cuisines and therefore foreign languages, I was asked by the publisher to work for about three weeks on the index alone. I really got my hands in everything for this book. With The Asian Grill (Chronicle Books, 2006), I wrote, styled, and shot the book myself. Talk about me, myself, and I! I would say I really love the creative process of both these books because I got to wear many different hats. The photography made me see food in a different way. It also made me get up from my desk and walk away from the computer, which is a good thing.

LP: And which are you most proud of after publication?
CT: While Essentials of Asian Cuisine was the most challenging (I call it my baby because I cried many a nights, I couldn't see the end of it!), Authentic Vietnamese Cooking: Food From a Family Table (Simon & Schuster, 1999) is the one I am most proud of because it is my first cookbook. The feeling when I first held the finished book in my hand is something I can't quite explain. "Disbelief," comes to mind. I think I stared at it for a long time, flipping through the pages, not knowing what to do next. I felt excitement and fear at the same time. It was overwhelming. It was also the one thing I knew would make my father proud.
LP: From whom do you find inspiration for actions everyday, either within or outside of the culinary industry?
CT: I find inspiration in my students. I love to teach. I love to watch them trying to figure it out. I too learn from them. I learn how to better communicate an idea, a feeling.
LP: I don't want to get you in trouble, but would love to see your list of top ten chefs. Do you mind sharing it?
CT: There are so many culinary professionals who have and continue to inspire me for many reasons. I get excited about food when I put it in my mouth and it challenges my thinking. That's number one for me. When I can taste each ingredient the dish offers, it's a plus. Food that pleases my eyes and invites me to touch it is what I want; it could be a pulled pork sandwich, foie gras on toast points, or a bowl of pho. And I always say, less is more; simple, elegant, inviting, with discernable textures, flavors, and colors.
Here we go, but "ten" is unfair because there are so many unknown chefs in Asia and Europe, in small eateries or sidewalks who really could teach a thing or two (or more) to those of us who have been recognized by this very competitive industry as being at the top of our game. That said, I'll purposely alphabetize the ten chefs for whom I have tremendous respect.

Mario Batali

Jean-Louis Dumonet

Alain Ducasse

Chris Lilly

Anita Lo

Nobu Matsuhisa

Masaharu Morimoto

Eric Ripert

Ming Tsai

Hoss Zare
LP: Except for the book "Authentic Vietnamese Cooking," most of your other books decidedly have multi-country cuisine flavors to them (instead of dedicating to one country's cuisine.) Personally I think a collection of multiple cuisines may have more appeal to readers. What were some of the factors that governed your decision to write a book one way or the other?
CT: My deepest commitment is to exploring the relationship between culture and food, offering my readers insight into how the many cuisines of Asia have evolved over time. There is not one cuisine that we can refer to as being pure. Every single cuisine in the world has been influenced one way or the other by another. When writing my books, my goal is to demonstrate the similarities between the various cuisines, as well as their differences. I also want to make Asian cuisines accessible, offering a variety of flavor profiles. Essentially I want my readers to feel like they are traveling through Asia when they cook my food.
LP: The flip side of the same question: why did you dedicate a book to just Vietnamese cuisine?
CT: Authentic Vietnamese Cooking is about exploring my very own personal background, half French and half Chinese, the two cultures that influence Vietnam. My father is Chinese but born and raised in Cambodia and the oldest child in his family. He had many siblings who married and decided to either stay in Phnom Penh or relocate to Saigon. No doubt the Vietnamese food I had growing up is influenced by these factors, and these are the recipes included in the book.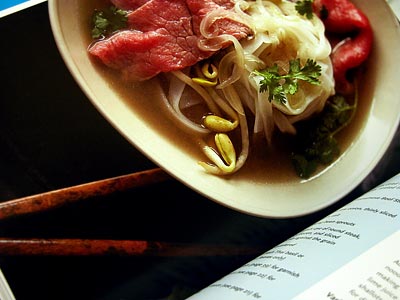 LP: Let's talk noodles and pho. Your latest book is "Noodles Every Day." I think it's a great subject for a book, by the way. It has some 70 recipes for all kinds of Asian noodles. So here's the ultimate noodle face-off, based purely on your new book and your expert judgement.
Which of your noodle dishes do you consider most delicious? Give it a 10. Where does pho fit in on a scale of 1 to 10 (10 being highest)
CT: You're killing me...I can't believe you're making me pick. Can I say they all are, Pho of course being a 10 and right up there with them all? I'll do that! It's a user-friendly cookbook. I've picked a popular food, the noodle, and have simply applied Asian flavor profiles using basic Asian ingredients that can be got in the international aisle of your local supermarket. (The same goes for my previous cookbook The Asian Grill, which focuses on a popular cooking technique.)
Which of your noodle dishes do you consider most difficult/involved/complex to make? Give it a 10. Where does pho fit in on a scale of 1 to 10 (10 being highest)
CT: Pork Bun (it's important to remember that buns, spring rolls and dumplings are all considered to be part of the noodle/snack category in Asia) is the most difficult because you're dealing with yeasted dough. Easy for some, and not so easy for others, Pho being a 3!
Which of your noodle dishes do you consider most difficult/involved/complex to serve? Give it a 10. Where does pho fit in on a scale of 1 to 10 (10 being highest)
CT: They're all easy to serve. It' all about the noodles, sometimes single dishes, sometimes with a dipping sauce, or garnishes. Nothing difficult but perhaps some more time consuming that others. Pho being a 1 because it is also easy to serve; just a matter of putting the garnishes on a plate.
Which of your noodle dishes requires the most ingredients? Give it a 10. Where does pho fit in on a scale of 1 to 10 (10 being highest)
CT: I think they're all about the same. I tried to keep them all fairly simple because I wanted to make these Asian noodle recipes accessible to everyone, the idea going back to Asian cooking being a home-style type of cooking. Most Asian foods are quite simple, which does not make them any less authentic, in fact perhaps more so. Rice Vermicelli with Pork and Spring Rolls and that's only because between the rice noodles and vegetables, the spring rolls, and the dipping sauce, there are really three recipes in one!
In the world of cookbooks, Pho has two recipes in one, the stock, and the noodles and its ingredients, Pho being a 7!
Which of your noodle dishes do you consider most popular among non-Asians? Give it a 10. Where does pho fit in on a scale of 1 to 10 (10 being highest)
CT: Pho, Pho being a 10!
LV: So here's the pho noodle face-off results, pho against other noodle dishes according to Corinne Trang:
Deliciousness of pho: 10/10 (one of the best)
Degree of difficulty to make pho: 3/10 (not too difficult)
Degree of difficulty to serve pho: 1/10 (very easy!)
Number of ingredients required for pho: 7/10 (fair amount required)
Pho popularity among non-Asians: 10/10
LP: I know you keep your calendar quite full. Can you share with me your typical day, sort of like "a day in the life of Corinne," if there's such a thing as typical day for you?
CT: I work from home, cafes, restaurants, the road, planes, buses, and trains. Ah the pleasures of working on a laptop and with a cell phone. At any given time, I'll be on the phone, while writing an article, or working on a book proposal, or developing recipes for a brand, or menus for a restaurant. It's hard for me to focus for any long period of time on a single project. I multi-task, and most recently I've read that one tends to waste a lot of time working that way. There's some truth to that, but that's my creative process and it works for me for now. I have Facebook on my desktop. I enjoy social networking, another forum that gives me the chance to share some of my thoughts about food. I Twitter when I travel or want to share some good news while on book tour. I've met good people on both sites, including you!
LP: If you have to choose 5 words that describe who you are and what you're about, what might they be?
CT: Sweet, sour, salty, bitter, spicy...I'm all about yin and yang, otherwise said, balance.
LP: Which do you find most challenging, radio shows, television shows, book signings, cooking demos, speaking gigs, or something else?
CT: Book signings in book stores when there's no food tasting or talk planned. They're boring, and people smile but walk right passed me. It's a waste of time. I want to be engaged with my audience, and let's face it the only way they'd consider buying my book is if I (1) start talking about food, or (2) offer them something to eat, or 3) both.
LP: And out of all these, which one(s) would you rather do all day, everyday without getting tired or bored of?
CT: I love the variety. I have fun with radio, television, teaching, and lectures in general. I do have a soft spot for radio because that's where I have the chance to go into food with great depth, and I don't have to put on a ton of makeup!
LP: At the end of a busy day, what is your go-to comfort food?
CT: It all depends on my mood. This week I've been into dark chocolate. Next week I could be craving soon doo bu, Korean tofu stew, and next month, pho.
LP: And finally, what are some of the big deals coming up for you, during the rest of 2009, and into 2010?
CT: I'll be making a guest appearance on NBC's Today Show on September 9th , then also this year I'll be judging at the Jack Daniel's 2009 World Championship Invitational Barbecue, Oct 23-24, 2009, and next June 2010 I'll be doing an Asian food and wine-pairing event at the Seghesio Family Wines World Cuisine Chef Series, June 5-6, 2010 in Sonoma, California.