Updated 08-26-14. It's unfortunate that this video has been taken off of YouTube for copyright infringement issues. It's double unfortunate that the copyright holder decided to not share anywhere for the world to see this great documentary on a great pho family. You can no longer see the video, but you can still read the transcript.
Here's the second part of the YouTube video telling an important story about a great pho family in Vietnam. First the video itself, followed by my loose transcription. Time stamps in brackets [ ] match video timecodes for easy reference. You can view part 1: "Pho Dynasty: Pho Hanoi by the Multigenerational Co Family from Town of Nam Dinh, Part 1."
Video: Phở by the Multigenerational Cồ Family (currently 3rd, 4th and 5th generation,) from Town of Nam Định, Near Hà Nội (part 2.) Narrated in Vietnamese.
Phở Cồ is pronounced
The Co Family Patriarch Guides Pho Hanoi to Its Future
Mr. Rao has been passionate about pho all his life, and will probably continue to be for a long time. In his hand is a book about the foods of Hanoi, written by the famous French culinary expert Didier Corlou. In it of course one can't miss his [Chef Corlou's] praise about pho by the family Co in Hanoi.
[0:30] Mr. Rao: "The vast majority of people, when talking about pho in Hanoi, know about the phở gánh or pho carts. [Editor's note: gánh in Vietnamese means bearing on shoulder with a bamboo stick with products hung at each end. It's a way for many people to make a living selling various foods, snacks and products.] It was the Co family and their people taking their pho from Nam Dinh to Hanoi, and according to current family members, Mr. Co
indistinct
. He was the first to open shops here, then followed suit by other people from the same village Van Cu. Around the 1980-1985 time frame, the Van Cu people started to scatter to Ha long, down to Da Nang. Even Saigon now has Van Cu people."
[1:19] Of the 4 brothers from the second generation of family Co, all pho experts, two have passed away. The remaining brothers include Mr. Phở Hùng, his real name is Cồ Như Hùng, and the second brother, Co Nhu Thu[?], who has just reached 80 years in age.
For many years now, Mr. Pho Hung no longer looks after the business. Rather his main work now is to pass on his experience to sons and daughters. For many years Hanioans have not seen Mr. Pho Hung. Today they have a chance to witness his demonstration on the art of making pho during the showcase of Vietnamese culinary arts organized by UNESCO in December 2003.
Standing next to him is the first grandson of Nhu Quang[?] who is fluent in making family Co pho.
[2:19] Despite getting older, Mr. Pho Hung remains strong and confident as he demonstrates his slicing techniques of a true professional with his quick, flexible hands and fingers. Today he is also the President of the professional association for pho countrymen from Van Cu, Nam Truc, Nam Dinh, which represents almost a hundred family members who are making a living serving pho in and around Hanoi.
[2:47] These two pho carts on demonstration have been rebuilt by UNESCO for the event. They are representative of those used by the Co ancestors in early 20th century. They were reconstructed based on Mr. Pho Hung's own memory of the years when he followed his father seling pho on the old streets of Hanoi. The pepper shaker itself was made from dry bamboo tubes; the fragrant northern pepper, together with the aromatic flavors of cinnamon, star anise, fresh ginger and charred onions have probably accompanied him all his life.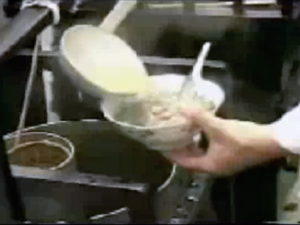 [3:22] Despite the months and years of laborious and hard work, Mr. Pho Hung and his family takes great pride as those responsible in bringing this rare gift to the land of Hanoi, then help in making pho famous across the country and now the world.
This is Pho Hanoi. And the soul of pho Hanoi is still the pho broth vat with its unique, special aroma and taste.
[3:48] Mr. Pho Hung on stage
indistinct
[4:08] Mr. Pho Hung: "… first off the [bones, meat?] must be fatty and rich. Once the water begins to boil, they must be pulled, then continue to keep the broth simmer without boiling over. This is how the broth can be kept clear always. This particular broth being served today has no well-done meat cooked in it. Together with the proper seasonings, the foundation of the stock must include the best quality ingredients. After that we'd add in charred ginger and onions, then nuoc mam (fish sauce), and that's how we served it."
[4:59] Mr. Pho Hung
indistinct
[5:11] Dr. Tran Manh Dat, of the Hanoi University of Education, is a long time citizen who grew up and studied in Hanoi. He has also traveled to foreign countries for education and business. Today, like many others, he by chance happens to attend this cultural event demonstrating the traditional Hanoi pho, and met up with Mr. Co Nhu Hung.
Dr. Dat: "In Paris or Amsterdam or
indistinct
or most anywhere else, I've always run into pho shops. The pho itself always makes me feel homesick. Today being at this festival, I'm very moved, at the same time feeling proud that our country has a rich culinary culture that is vey rich. Many of my friends from abroad tell me they can never forget Vietnam, because of this pho dish. It is the pho that attract them back to this country."
[6:28] Now in his retirement, Mr. Pho Hung rarely go visit many places, even to pho shops run by descendants of family Co, and by his countrymen from the same village Van Cu. There are at least a few hundreds of them. Though he does make exception for family members, like this Pho Hang Dong. He always wishes them continued success, in any era or generation.
[7:01]
indistinct
[7:14] Everyone, whether in the family or from the village, or even the customers, wishes Mr. Pho Hung good health and long life, hoping that he will continue as a strong guide for their pho Hanoi, as well as keeping pho famous across the five continents.
[7:35] On a beautiful day in the near future, during the celebration of 1,000 years establishment of Thang Long-Ha Noi [Editor's note: October 2010 will officially mark 1,000 years of the establishment of the city of Hanoi] we hope to be able to view Mr. Pho Hung in action again, right next to his traditional pho cart of Hanoi, with its deductive fragrance.
To read more about events and people related to this video's production, check out these articles: