Updated 03-05-11. If people from all across the world are crazy about Vietnamese pho, that really comes as no surprise. Vietnamese pho, or simply pho for short, is a deceptively uncomplicated dish with very complex flavors and exotic textures. Its heartiness fills the stomach and its heat warms the soul. It is one of the best comfort food ever created.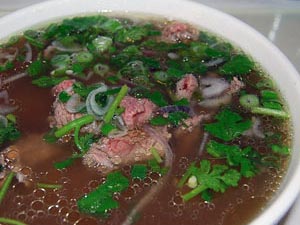 Although pho is a classic example of Vietnamese cuisine, its popularity is not limited to Vietnam alone. Since the Vietnamese refugees left Vietnam in 1975, Vietnamese restaurants all across the globe offer their own variations of pho, cooked using their very own pho recipes. Even non-Vietnamese people have strived to learn how to make pho in their own kitchens because it is such a lovely dish to eat any time of the day and is not that hard to make. That's right it's not that hard to make, but you are required to put in the time if you want to do it right.
As many pho lovers already know, good pho depends first and foremost on the broth, which is what makes a difference between bad homemade pho and good pho, restaurant or otherwise. If you know how to make good pho broth, then everything else is just a matter of getting the pho ingredients from the markets.
The way pho is made largely varies on the skill and dedication of the person cooking it. Because of this, it is hardly a surprise that there are so many pho recipes to be found on the Web. Pho is versatile enough to lend itself to different variations but you have to know where the rule can be broken, and where it cannot.
Here are ten pho recipes you can try your hands at. Be advised that when it comes to making pho, or many other dishes for that matter, experience is key because you need to know if what you just made tastes right or not. Furthermore, this is not a top ten list, and the recipes are not presented in any order. I would consider a number of these "quick broth" recipes as home remedies, something you can do to tie you over until you can get the next real pho fix.
One thing is for sure though: if you really want to try and make pho yourself, then select a recipe from a Vietnamese chef, preferably a respected one. Except that there's a certain French chef that knows a lot more about Vietnamese pho than many Vietnamese. I'll share this tip at the end of the article.
The So-Sos and the Funnies
The Pros
Now that you've read all these interesting recipes, what would I recommend? Here are my picks and they're actually not on the list above (ha ha, sorry):
In summary, beef is the traditional main ingredient of pho, but pho is also adaptive so it can be made in many different ways. No matter which pho recipe you choose, pho is a great meal to make, share and enjoy. Now if you're still confused about what pho is, head over and check out the post titled "What is Vietnamese Pho: Think You Know? Think Again." Enjoy.
A final note:: if you'd rather not deal with buying the bones and oxtails and simmering them for hours as called for by many recipes mentioned above, you can opt for making the broth the easier way. Just substitute the steps to make the broth with that described in this article "Quicker Beef Pho Recipe with Quoc Viet Foods' Pho Soup Base," and you'll have a steaming pho bowl on your dining table much sooner.