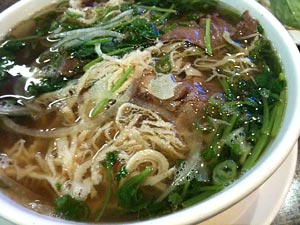 Updated 09-12-09. Pho recipes come in great numbers around the Internet and you can find them easily using your favorite search engine. Some pho recipes are penned by well-known chefs and culinary experts, while others are shared by experienced pho cooks and private citizens. The most popular, however, are the ones written by chefs and published in various cookbooks. So here's a collection of the top pho recipes you can find on the Web.
It should be pointed out that this list is different from the list already published as "Ten Pho Recipes from Around the Web," which was more of a random sampling of pho recipes at the time I wrote it. Many are not as authentic as they should be, and two of those ten are very good, solid recipes by two of the most respected experts in Viet cuisine. I published that article in a rush, so now with a little more time and effort put into it, here are my pick of must-have top pho recipes.
Top Beef Pho (Phở Bò) Recipes
Top Chicken Pho (Phở Gà) Recipes
Top Vegetarian Pho (Phở Chay) Recipes
| Pho Author/Chef Name | Webpage with Pho Recipe | Quantcast Monthly Traffic to Site | Quantcast Site Rank | Google PR (Recipe/Site) Max 10 | Year Est. |
| --- | --- | --- | --- | --- | --- |
| The Gastronomer | gastronomyblog.com | N/A | N/A | 3/5 | 2006 |
Notes for tables above:

Popular pho recipes found on the Internet, as of May 2009.
"Google PR (PageRanks) Recipe" is PR for webpages on which the recipes appear. "Google PR (PageRanks) Site" is PR for site home page. Google PRs gives good indication of webpages' popularity.
Quantcast data and Year Est. (established) are for the whole website. These give an indication of site traffic (visitors) and site trustworthiness (longevity.)
Default sort by Google PR of Recipe then Quantcast Site Rank. Click any table header to resort by that column. Refresh page to default sort.
See more notes about the ranking methodology at the end of the article.
The bottom line?
As you can see, many of these are great pho recipes. As we all know, it's all in the pho broth, so you can just skip everything and go straight to read about how to make the broth. And as I've said before, once you've got the broth, the rest will just fall into place.
At one end of the spectrum are recipes that take the straight-forward, traditional format and approach, and they get you awesome pho broth very reliably. At the other end are pho recipes that not just get the job done, but are also beautifully presented, clearly showing you everything throughout the cooking process. Then, somewhere in between are great pho recipes that are real fun to read too just because the authors are interesting people and/or their blogs are very nice to look at.
While older recipes have stood the test of time, the newer ones have something valid to offer, employing more modern techniques in the process. So check 'em all out, pick one, make some and enjoy. Better yet, select one at a time and try them all out. They're all good. You're already fanatic about pho, you'll be an expert pho cook in no time.
By the way, a decent alternative to cooking pho broth for hours on end is with Quoc Viet Foods' Pho Soup Base.
Whatever you do, don't forget to try that pho chay. Delicious!
Ranking Methodology: Quantcast and Google PageRank
Ranking of these pho recipes are based on a simple analysis consisting of a combination of my own subjective judgement on a recipe's authenticity and its creator's reputation, with the help of Quantcast rankings and Google PageRanks for the website and webpage on which each is published.
Quantcast.com is a website that collects statistics voluntarily provided by other websites and provides reports on those statistics. I used Quantcast's monthly visitor traffic count to the site (not necessarily to the recipe,) and Quantcast's ranking number for that site (smaller number ranks higher.)
I also looked at Google PageRank (PR) of the webpage the recipes reside on. The PRs provide relative importance of a webpage based on its popularity as "voted" by other webpages around the Internet.
As many may know, there is no perfect tool to analyze web traffic information, especially if you don't have access to a site's analytics. So I only used the data to assist with my subjective selection of the "top pho recipes."
The default sort of the rankings in the table is by Google PR, but you can resort to your preference by clicking on the appropriate table header. A site may have millions of visitors per month according to Quantcast (e.g., recipezaar.com and epicurious.com) but its webpage that has the recipe of interest may be ranked lower in popularity by Google PR. We can't make a judgement about how many of the total site visitors actually viewed the pho recipe using the Quantcast data; we can only assume (with great reservation) that higher overall traffic gives higher relative traffic to the pho recipe. This by itself did not govern my ranking of the table entries, but it was helpful.
A final note: Older and active sites will tend to have higher rankings, but not always. Anyway, the year the site was established is also given for those interested.